Tornadoes terrify me! What about you?
These tornado alley maps show which US regions are prone to terrifying and strong tornadoes as well as to strong winds and hurricanes! Tornado risk map: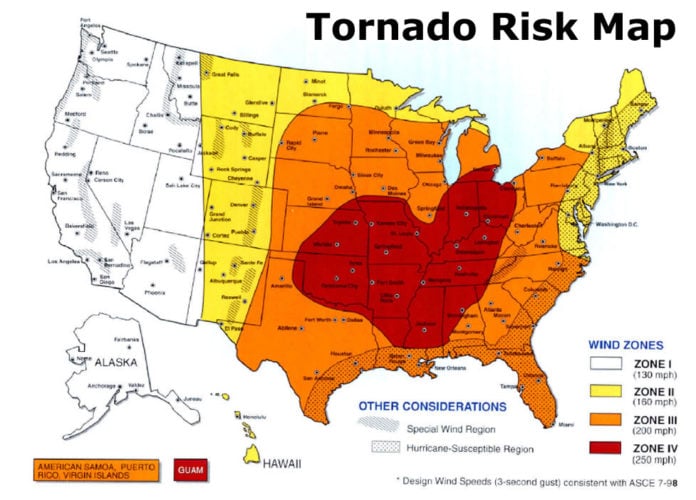 Now! Where in the US is your probability of being killed by a tornado larger?
You basically don't want to be in the red (mostly Oklahoma, Kansas, northern Texas, Alabama and Mississippi).
Analysing all the tornado touchdowns that occurred between 1950 and 2004, most killer tornadoes occurred in the red zones from the upper map as shown below:
This last map can be translated into an activity map presenting the US tornado frequency of F3 and greater intensity tornadoes by area as shown in the following map:
The darker colors highlight the areas typically known as a Tornado Alley, which is a region particularly prone to tornadoes.
As illustrated on the first map, this area stretches from Texas to Canada with its core centered on Oklahoma, Kansas and northern Texas. But in southern US another significant region, known as Dixie Alley is composed of Alabama and Mississippi. Although Florida is one of the most tornado prone states, twisters' power is relatively low.
Tornadoes terrify me! What about you?