A rare earthquake has rattled Sydney on January 3, 2016, but Australian government officials are urging locals not to panic. The 3.9 magnitude quake was centred 16km south of Campbelltown...
A swarm of more than 250 small earthquakes has struck since New Year's Eve near the California-Mexico border, causing unease among residents and attention from scientists. The earthquakes struck in...
A swarm of more than 100 small earthquakes hit Brawley, a small city situated only 30 miles from the San Andreas Fault, on Saturday. The biggest tremor so far was...
A strong M5.6 earthquake hit near Focșani in eastern Romania on December 28, 2016. Shaking were felt as far away as the capital Bucharest and in nearby countries, including Bulgaria, Moldova,...
A series of at least 27 earthquakes was reported on December 28, 2016, near the Nevada-California state line. The first temblor occurred at 12:22 a.m. Pacific time with a magnitude...
A destructive magnitude 7.7 earthquake hit southern Chile on December 25, 2016. The ONEMI has warned people in the coastal regions as far as 1,000 kilometers (620 miles) from the epicenter to...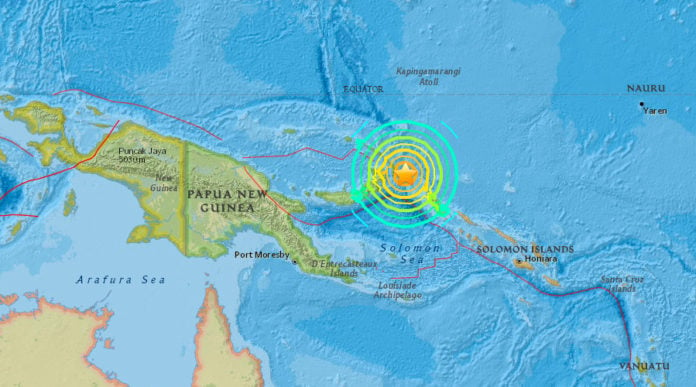 A powerful earthquake, initially measured at magnitude 8.0, has hit east of Papua New Guinea. The initial quake has already been followed by several aftershocks with magnitude 5.5-6.0. The tremor...
In less than a week, four swarms of more than 120 earthquakes shook Mount St. Helens in late November. Scientists say they reveal the volcano is likely recharging. Yes, each...
An undersea earthquake off Indonesia's northern Aceh province has killed at least 52 people on December 7, 2016. The magnitude 6.5 quake struck just off the north-east coast of Sumatra...
The 'Big One' is a hypothetical earthquake of magnitude ~8 or greater that is expected to happen along the San Andreas Fault (SAF). Such a quake will produce devastation to...
Two weeks ago, I was talking about the new and massive 600 to 800 metres long and 50 metres deep quake canyon that was created after the New Zealand's...
At least six miners are missing and two are dead after an earthquake occurred at the Rudna mine in Polkowice in southwestern Poland. The very shallow earthquake of magnitude 4.4...