Huge Sinkhole Formation on I-69 Route in Monroe County Indiana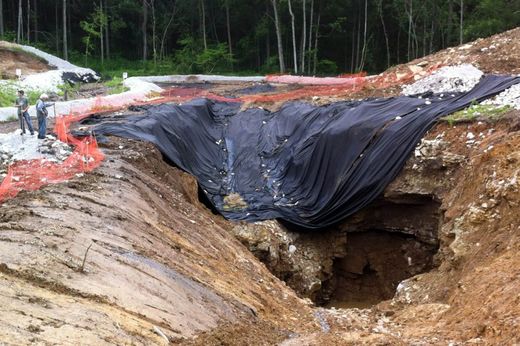 © Brian Garvey / Citizens for Appropriate Rural Roads
Tom Tokarski (right) stands next to a sinkhole in southwestern Monroe County.
Indiana Department of Transportation officials say they anticipated sinkholes along I-69 and are working to fill them. As I-69 construction continues in Monroe County, crews are encountering a number of sinkholes. The state department of transportation says it is not unexpected given all the karst features in the area. But residents are worried about the impact of the construction on the environment. Bulldozers and land movers are working to clear a path through southern Monroe County that will eventually become part of I-69. This phase of the construction is the most challenging because of the karst topography. The construction is exposing large caverns, some 30 feet deep and 15 feet across. –
Indiana Public Media
 Dangerous Sinkhole Formation in Cape Girardeau Missouri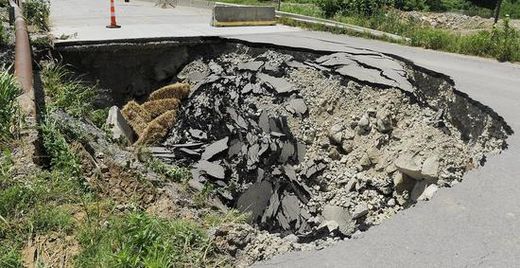 © Adam Vogler / Southeast Missourian
One of two sinkholes located in the 2300 block of South Sprigg Street
Two sinkholes on South Sprigg Street, near LaCroix Creek, continue to grow in Cape Girardeau Missouri. A sinkhole in the creek is causing water to flood into the nearby Buzzi Unicem quarry.
One of the sinkholes on South Sprigg Street is about 50 feet in diameter and about 15 feet deep. A second sinkhole near the end of the bridge over the creek is 20 to 25 feet in diameter and is roughly 6 to 8 feet deep.  The problem worsened as the waters of the Mississippi River rose to above flood stage for the second time this spring. – Semissourian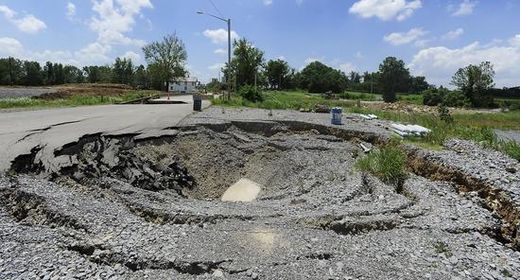 © Adam Vogler / Southeast Missourian
Sinkhole in West Point Utah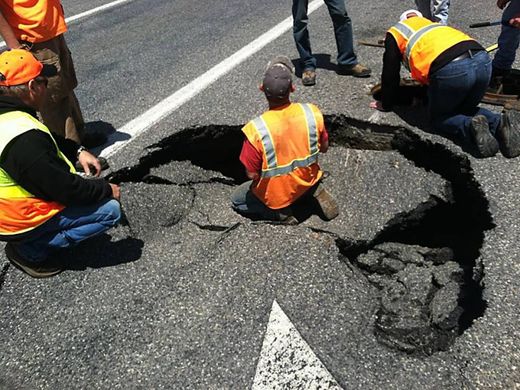 © Courtesy Photo
Southbound traffic will open up shortly at 275 N. 2000 W. in West Point. Northbound will be closed for a while.
A sinkhole measuring about five feet wide and eight feet formed on the right-hand turning lane on 2000 West just before 300 North. A white truck got stuck in the sinkhole but wasn't damaged. –
Standard
Sinkhole  Swallows Car in Buffalo New York
A sinkhole opened up and nearly swallowed a small car in Buffalo's Kaisertown neighborhood. – WGRZ