This new religion worships an invisible flying spaghetti monster.
And has been, after a long juridic trial, officially recognised in Poland.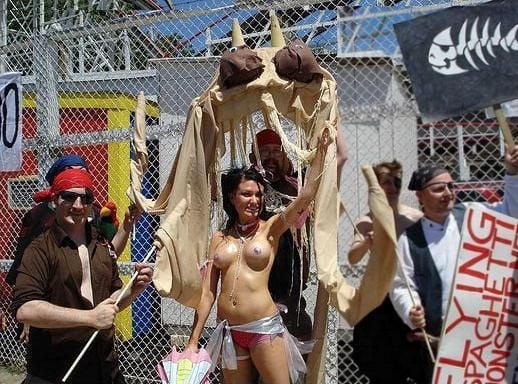 The Church of the Flying Spaghetti Monster (FSM) is now officially registered as a new religion in Poland.
I am wondering how their cathedrale looks like. Probably not like this one.
What are the religious beliefs of The Church of the Flying Spaghetti Monster (FSM)?
As reported by The Independent:
This movement parodies orthodox religion and opposes the teaching of creationism and intelligent design. For example, prayers end with the word 'ramen' instead of 'amen' – a nod to Japanese noodles.
Pastafarism and the flying spaghetti monster. Photo: venganza.org
The Church can now apply to be registered as an official religion in Poland, after a 2013 court ruling was overturned on Tuesday. […] A group of Pastafarians who gathered outside the court shouting "pasta" during the hearing on Tuesday welcomed the ruling.
Here listen to one of their preachers:
To get more information or to become Pastafarian, visit their webpage.