This summer is going crazy and heatwaves are triggering dramatic living conditions around the world. While major heat wave is bringing record-breaking temperatures to Southern California, another heatwave has already killed 54 people in Quebec, Canada, and Britain is baking and its roads are melting. Finally, Africa has witnessed it's highest temperature ever recorded, 124.3F, in Algeria and temperatures are breaking new records in Iran. The world is boiling, water is disappearing… Is the end coming? Let's start with the USA:
A major heat wave is bringing record-breaking temperatures to Southern California. By 1 p.m., temps in Woodland Hills hit 115 degrees, shattering a record of 106 set in 1976. Heat records for Burbank, Van Nuys and downtown Los Angeles fell early. Downtown Los Angeles hit 95 degrees before 11 a.m., breaking the previous record of 94 degrees set in 1992.
Excessive heat watches are in effect through all of Los Angeles, Orange, Riverside, San Bernardino and Ventura counties. Friday's forecast for Malibu is 95 degrees, while the valleys could hit a scorching 117 degrees. Red flag warnings are also in effect due to the wind, the high heat and low humidity. This dangerous heat wave is expected to fueling existing wildfires in the area.- CBS Local Los Angeles
Meanwhile in Quebec, Canada, 54 people were killed by a blistering heat this week. Twenty-eight of the deaths were in Montreal. The region has seen record high temperatures and high humidity since last Sunday. Temperatures were in the mid-90s for Montreal on Sunday and Monday, about 20 degrees higher than the normal temperatures this time of year.
Environment Canada lifted heat warnings Friday, despite expectations that temperatures will once again rise early next week. – News 5 Cleveland
As temperatures continue to sizzle across the UK this weekend, Brits have taken to social media to share hilarious pictures to sum up the heatwave. Britain is currently basking in a 30C heatwave and for a country that is used to rain and fog, there are are naturally some unexpected problems that arise from the lovely weather.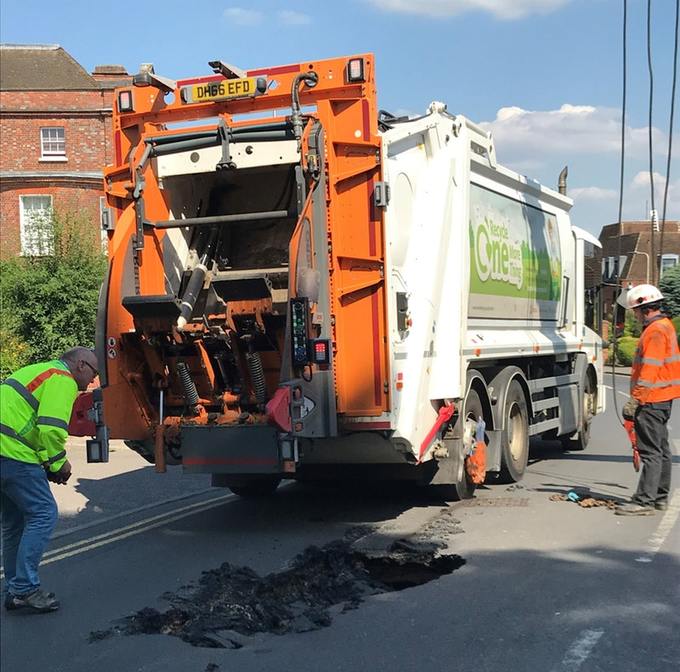 In Berkshire, a bin lorry sunk into a hole in a road after the summer heat melted the asphalt. In Tyne and Wear,an unnamed 24-year-old man's foot became stuck after the tarmac beneath him melted and gave way.
Today we had an incident in Heaton, young man stepped on some tarmac and lost his footing The tarmac had become so soft during the current heatwave that it melted. He stayed calm & called 999 Thankfully he didn't break his ankle he was wearing his granddads @drmartens!#StaySafe pic.twitter.com/D77PdsC9wG

— Tyne and Wear FRS (@Tyne_Wear_FRS) July 5, 2018
He became stuck up to his thigh and had to call 999 to be freed. – ITV
An intense heat wave is shattering temperature records in Iran and the Caucasus nations of Azerbaijan, Armenia, and Georgia, causing power shortages that are adding to discomfort in the region.
Weather experts on July 6 said the heat wave is the result of a high-pressure dome or heat dome that formed over the Eurasian region and reaches as far north as southern Russia, where temperatures hit a record high for June on June 28.
In the Georgian capital, Tbilisi, temperatures soared to a record of 41 degrees Celsius on July 4, contributing to unhealthy air pollution levels reported by the National Environmental Agency.
Earlier in the week, on July 1, temperatures hit a record 43 degrees in the Azerbaijani capital of Baku, prompting heavy use of air-conditioning that the government said caused an explosion at a hydroelectric power plant and a nationwide power outage.
A day later, temperatures soared to a record high 42 degrees in Armenia's capital, Yerevan, while Iran experienced its hottest July temperature ever — 53 degrees — causing misery and power shortages and prompting the government to change work hours in Tehran to save electricity. – RfERL
The planet's hottest continent, Africa, probably just endured its hottest weather ever reliably measured. An Algerian city soared to 124.3 degrees (51.3 Celsius) Thursday, adding to the onslaught of records for extreme heat set around the planet during the past 10 days.
The blistering-hot temperature reading, observed in Ouargla, is probably the highest temperature ever reliably measured both in Algeria and in all of Africa. The record was first identified by weather records expert Maximiliano Herrera.
Ouargla, with a population of nearly half a million, is located in north central Algeria, roughly midway between Morocco and Tunisia. – Washington Post
This probable all-time heat record is one of many set over the past 10 days because of numerous intense heat domes scattered around the Northern Hemisphere. Locations where heat records have been set include:
In North America: Denver; Montreal; Mount Washington, N.H., and Burlington, Vt.
In Europe: Glasgow, Scotland, Shannon, Ireland, Belfast, and Castlederg, Northern Island
In Eurasia: Tbilisi, Georgia and Yerevan, Armenia
In the Middle East: Quriyat, Oman, which posted the world's hottest low temperature ever recorded on June 28: 109 degrees (42.6 Celsius).
Arctic: In Northern Siberia, along the coast of the Arctic Ocean, model analyses showed temperatures rose over 40 degrees above normal on July 5, above 90 degrees. Data here is scarce so records cannot be confirmed for this exceptional anomaly.
Heat waves like this are likely to be more frequent going forward than they have been in the past. Last month, a montly heatwave baked the entire county of Mexico, even melting traffic lights! Get prepared!