Here a compilation of the latest eruptions and seismic unrests around the world.
Kuchinoerabujima volcano, Japan
An explosive eruption occurred at about 9:19 am on January 17, 2019 at Kuchinoerabujima, in the Ryuku volcanic arc in southern Japan.
The strong eruption ejected a plume of ash more than 6,000 meters in the air and produced pyroclastic flows hurtling 1,500 meters down the flancs of the volcano.
Following the eruption, a thick plume of gas and vapor was observed.
Sources: JMA, NHK, Shérine France
Planchón-Peteroa, Argentina – Chile border
Planchón–Peteroa is a complex volcano extending in a north-south direction along the border between Argentina and Chile. On January 15, 2019 at 20h56 local time it exploded sending a greyish ash plume at about 600 meters above the summit.
According to volcanologists, a new eruptive cycle of phreatomatic characteristics develops, following the possible contact of a magmatic body with a part of the hydrothermal system.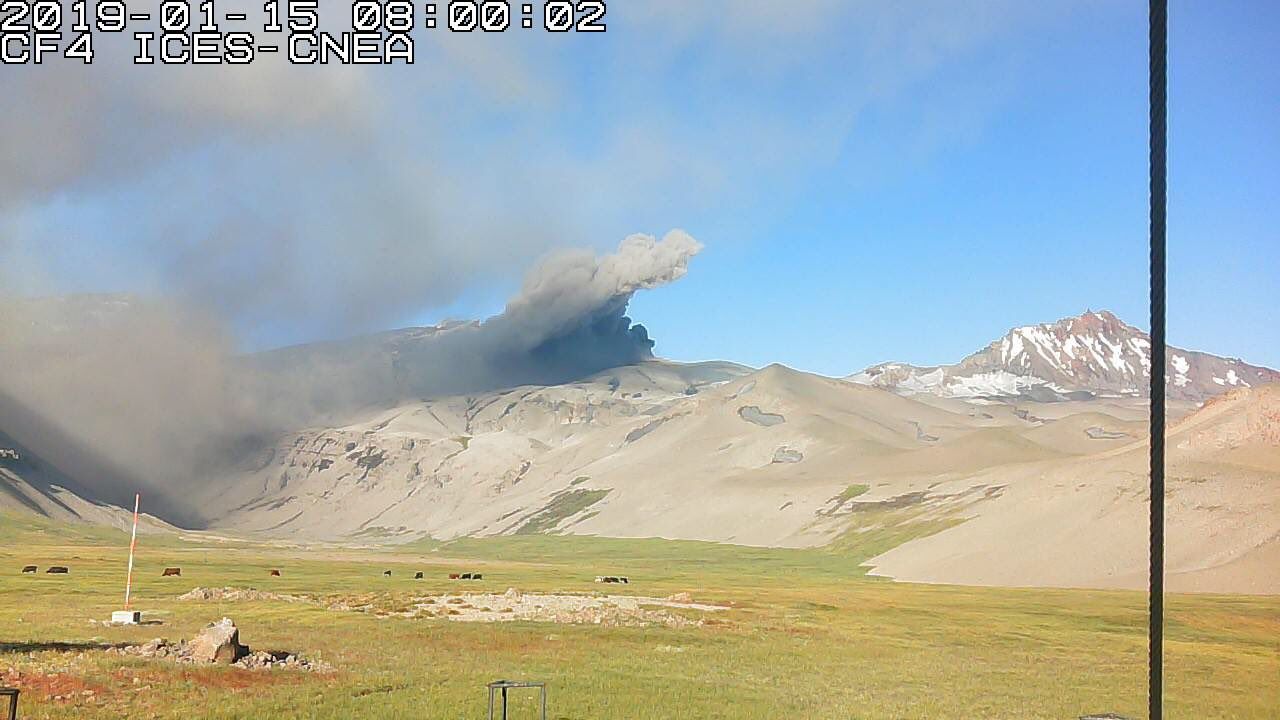 This would facilitate the fragmentation of a minor volume of magma and the expansion of steam and the emission of ashes.
Source: Sernageomin
New mud volcano in Guatemala
The Insivumeh / Guatemala is conducting a geothermal study of the newly formed mud volcano on the shore of Laguna de Ixpaco, municipality of Pueblo Nuevo Viñas / Santa Rosa.
For now, it is too fast to speak about the formation of a new volcano.
Ixpaco lagoon is situated at the base of the dormant Tecuamburro volcano, a volcanic depression connected to an underground river, which is greenish-yellow in color BUT can turn white due to the high sulfur content.
Merapi eruption and collapse in Indonesia
At Merapi / Java, the PVMBG reports for January 16, 2019 a total of 33 collapse earthquakes, a blast earthquake, and a distant tectonic earthquake.
The video shows lahars resulting from rain on January 17, 2019:
Source: PVMBG
Mayotte Seismic unrest: Deep-sea fish dying, water bubbling, sulfur smell
A large number of dead fish emerged at various sites off the barrier reef just east/southeast of Mayotte just WHERE AN INTENSE EARTHQUAKE SWARM HAS STARTED IN MAY 2018 AND IS STILL ONGOING. The fish kill is accompanied by reports of strong smell of gas, burning rubber, plastic or sulfur.
Source: Deep-sea fish kill, warning
Follow us on Facebook and Twitter or become a Patron on Patreon / donate through Paypal. Please and thank you