Earth is exiting a stream of solar wind that sparked a G1-class geomagnetic storm and magnificent auroras when it first arrived on Jan. 31st and Feb. 1st. But what happens when a stream of solar wind traveling 1.3 million mph strikes Earth's magnetic field? Well look at this magnetometer chart situated in Preston UK: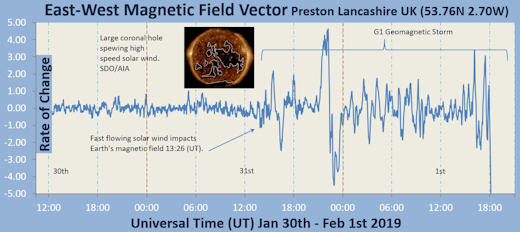 "The chart clearly shows the arrival of a high-speed solar wind stream on Jan. 31st," says Green. "Magnetic unrest intensified over the following 24hrs to create a G1-class geomagnetic storm."
The squiggles in the chart represent changes in the local magnetic field caused by the buffeting of solar wind high overhead.
They are the magnetic manifestation of auroras dancing at the same time around Arctic Circle.
"The sensor is buried in my garden about 0.5 meters below the surface in an East/West orientation," he explains. "This allows very sensitive (sub nanotesla) measurements of magnetic declination during geomagnetic storms. The plot shows the change in magnetic flux density in nanotesla occurring between readings every few minutes."
Follow us on Facebook and Twitter or become a Patron on Patreon / donate through Paypal. Please and thank you