Here we present a compilation of the latest meteor fireball sightings from around the world!
Enjoy and keep your eyes to the sky!
Huge fireball recorded over Brazil
Cameras in different cities across Rio Grande do Sul captured this bright fireball on June 6, 2019. Awesome:
Bright meteor over Andalucia
This bright meteor was captured on June 2, 2019, 01:56:40 am in the skies of Andalusia, from Benamaurel (Granada). The ball of fire was observable during 3 seconds many miles away.
Fireball disintegrates over South East UK
A 'FIREBALL' has been seen blazing a trail across the skies of Sussex. The UK meteor Observation Network posted an image of the fireball, taken in East Barnet in London. – The Argus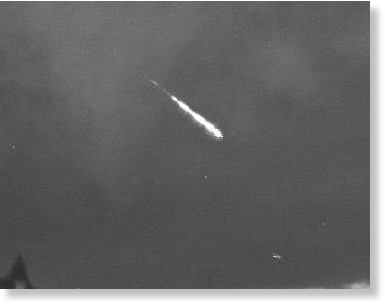 Mysterious bang shakes Plymouth at night
Plymouth residents say they were woken to "a massive bang" in the middle of the night – but no-one knows what it was. 
She tweeted: "there was a massive bang at 4.10am heard in st Jude's, anyone know what it was please? Scared the life outta me it was so loud."
Mystery surrounds what caused the loud bangs. Maybe another space rock explosion? – Plymouth Live
Meteor strikes the sky over France and Germany
The American Meteor Society (AMS) received 8 reports of a meteor flying over Germany and France on the night of May 22, 2019.
The American Meteor Society (AMS) received two reports of a meteor over northern Germany on May 24, 2019:
Giant fireball in the sky above Adelaide, Australia
This one occurred on May 27, 2019 in Bundaberg, Queensland
With 13 meteor showers going to peak in June 2019, we might possibly see a lot more bright falling stars striking high above our heads. Enjoy the shows!