November 23 2012 – Loud booms and roars from 2.1-magnitude earthquake in Clementon, South New Jersey, USA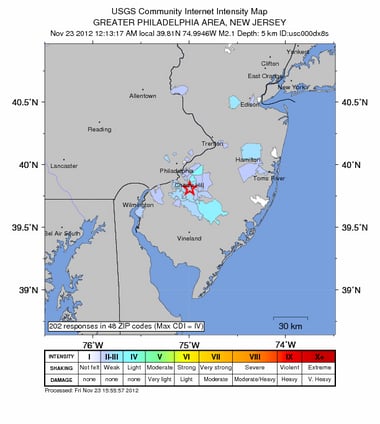 Black Friday began with a bang in New Jersey as the U.S. Geological Survey's website says a 2.1-magnitude earthquake was measured near Clementon, about 15 miles southeast of Philadelphia in Camden County and was felt at 12:13 a.m. The epicenter of the quake was about 3.2 miles below the Earth's surface.
According to the USGS, a 2.1-magnitude earthquake is not huge but this one got the attention of about 200 people from around Clementon (Blackwood, Philadelphia, Sicklerville, Sewell, Voorhees, Pitman, Swedesboro, Westville, Williamstown, Collingswood, Glassboro, Toms River, Manahawkin and Trenton).
The earthquake was accompagnied by loud booms, similar to an explosion. Houses were shaking and animals were going crazy. Another witness says: "i didn't hear anything first… just felt everything shake & rattle a few seconds but it sounded like a.truck was rollong (sic) by but there wasn't."
Earthquake are quite rare in this region. Moderately damaging earthquakes strike roughly twice a century whereas smaller earthquakes are felt roughly every 2-3 years. The yesterday earthquake is however the second earthquake to hit New Jersey this month after that on the 5th of November 2012 (2.0-magnitude quake in the Ringwood area in Passaic County). The last earthquake in New Jersey, prior to these two, had a 2.2 magnitude and was recorded in February 2010. Last month, New England residents had the earth move under them as well, with a 4.6-magnitude quake centered in Maine, but felt in at least six surrounding states. A rare 5.8-magnitude East Coast earthquake centered in Virginia rattled New Jersey in August 2011, wobbling floors and shaking buildings.