The Canary islands in the Atlantic Ocean are well-known for their enhanced seismic activity. Between March 14, 2014 and March 17, 2014, around 300 swallow quakes (from 1.5 to 2.4 in magnitude) stroke the north-west portion of the island of El Hierro (Canary Islands).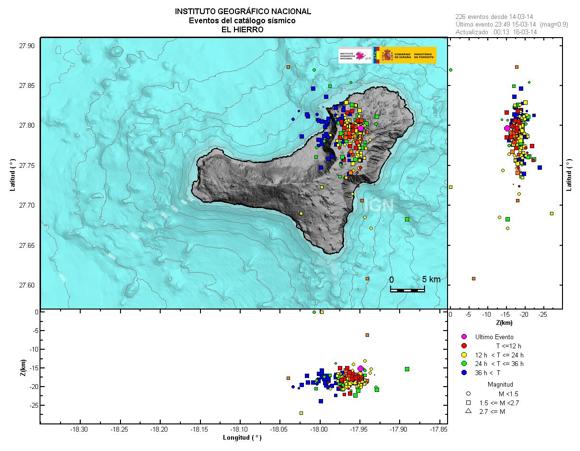 What did cause this swarm?
Back in 2011, an underwater volcano erupted in fron of La Restinga, a small village on the south of the El Hierro. This eruption released so much sulfur, magma and debris that the village had to be evacuated. Here a video of this underwater eruption:
Moreover, in December 2013, scientists demonstrated that the island had risen by 8.3 centimeters. So there is magma production!!!
This recent buildup of magma and volcanic activity may show that the underwater volcano is still alive and could probably spring back into life to, perhaps, create a new island off the south coast.
Geology… I love geology!