This monster sinkhole – 130ft wide  – appeared near a Russian potash mine after heavy downpour and floods.
The giant cavity at at Solikamsk potash mine forced thousands of miners to stay in their homes and triggered the Uralkali shares to drop.
A gaping sinkhole has opened up in the Perm region of Russia after the flooding of a nearby potash mine. The hole – described as being between 100 and 130ft in diameter – appeared several miles to the east of the mine in Perm region.
Around 2,000 miners have been told to stay away from the Solikamsk-2 mine in Russia after a 130ft wide sinkhole opened up. All of the workers were safely evacuated.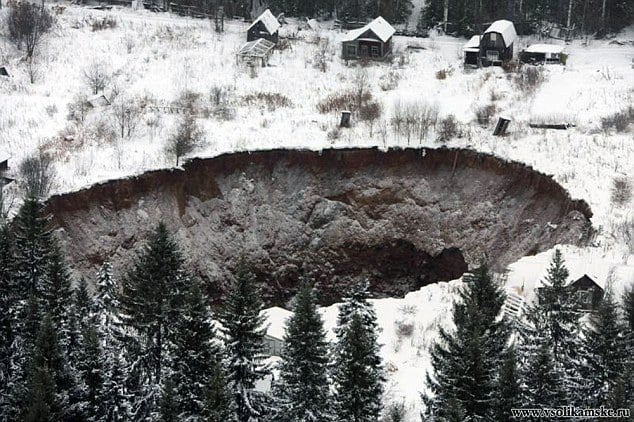 Geologists are urgently seeking to understand its cause. Some have theorised that an earthquake in the area 20 years ago may have weakened the rock, before mining and flooding caused it to subside.
The cause of the sinkhole is seen as different to the appearance of craters in northern regions of Siberia recently. The Siberian craters – in permafrost regions – are seen as the result of the melting of soil containing gas hydrates, leading to dramatic blowouts.