Three earthquakes ranging in magnitude from 5.0 to 5.9 hit the main island of Luzon, Philippines within 20 minutes on Saturday, April 8, 2017.
An estimated 20 million people felt the tremors as far away as the capital Manila and the island of Mindoro.
The quakes about 90 kms (55 miles) south of the capital Manila occurred over a period of about 20 minutes.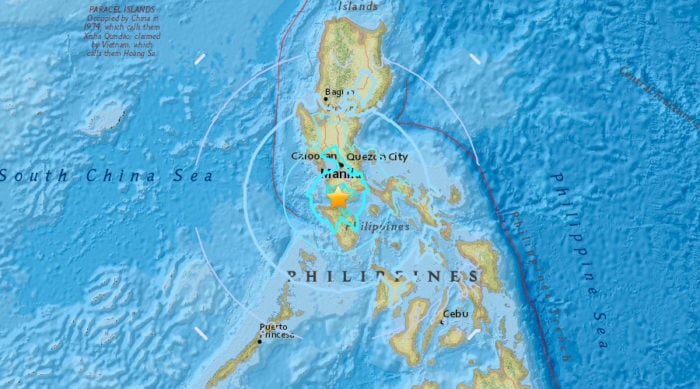 A Reuters reporter felt a tremor for over a minute in the Makati business district of Manila.
The 5.9 magnitude earthquake struck in an area near Talaga, 70km south of Manila in the Philippines. The quake was at a depth of 42.7km.
The quake was the second and strongest of three that occurred over a 20-minute period, all between 5.0 to 5.9 in magnitude.
PHIVOLCS confirms they recorded two quakes – M5.5 and M5.0 – in Batangas, 2 minutes apart. Aftershocks expected. No tsunami warning.
Landslides were reported at Mount Maculot, located south of where the tremors occurred.
Magnitude 5.3 earthquake strikes, with epicenter in Batangas. Second earthquake in a week. pic.twitter.com/SGqibBIR0p

— The Benildean (@TheBenildean) April 8, 2017
The three earthquakes created fear, residents and campus have been evacuated running on the streets. Get prepared. It might happen around you next time!