Firefighters are battling large wildfires across different countries of southern Europe.
Dry hot weather and strong winds have caused fires to spread and forced evacuations in France, Croatia, Italy, Montenegro, among others.
Wildfire rages toward coastal Split (Croatia) at least one dead.
firefighters are battling wildfires since 3 days in CROATIA. They were able to control a forest fire along the Adriatic coast that has damaged and destroyed buildings in villages around the city of Split, reaching the Split suburbs late Monday.
Croatian TV reported that the blaze near the key port and tourist center of Split has reached houses in some parts of the city, with residents joining firefighters in efforts to contain the flames. Some parts of the city were without water or electricity.
The blaze, which started shortly after midnight, has spread across 20 km and first threatened the villages of Srinjine, Sitno Gornje and Sitno Donje. Scenes in Srinjinje, Gornje Sitno, and Donje Sitno and Žrnovnica have been described as 'apocalyptic', with a number of houses burnt down already in Žrnovnica.
Wildfire rages near coastal Luštica in Montenegro as country asks for help
MONTENEGRO has asked for international help to fight wildfires raging along its Adriatic coastline, forcing the evacuation of dozens of tourists and campers.
According to officials, the situation at Lustica is critical. The interior ministry of Montenegro asked for the European Union Civil Protection Mechanism to be activated to help extinguish the fire. Mayors of the threatened coastal towns of Kotor, Tivat, and Herceg Novi urged the government to ask neighboring nations – Croatia, Bosnia, and Serbia – to send fire-extinguishing aircraft. Well, it will be hard for Croatia to help as their coastline is also on fire.
Wildfire burns near coastal Nice in France
Hundreds of firefighters are working to extinguish a forest fire about 15 kilometers (9 miles) from the French Riviera city of Nice, as unusually hot and dry weather has hit much of FRANCE.
Jean-Gabriel Delacroy of the Alpes-Maritime regional administration said Tuesday that the fire near Nice is "under control" but not yet over after breaking out Monday night.
Three firefighters were lightly injured in the blaze, which consumed 120 hectares (about 300 acres) of forest and reached the town of Castagniers, inland from Nice. No homes have been hurt so far. Fires in recent days have also hit Provence and Corsica.
Portugal hit again by devastating wildfires
The Continent got a taste of what was to come last month, when a blaze tore through central Portugal, leaving more than 60 people dead.
Portugal hasn't been spared from the latest devastation, with fires now burning in the Mangualde district, about 75 miles north of where the blazes spread last month.
Italy is burning down
Officials reported nearly 900 wildfires in ITALY on Monday, with people evacuated from residential as well as touristy parts of Rome and Naples, and around Mount Vesuvius, near Naples.
On Monday, firefighters extinguished a wildfire that destroyed a vast portion of the Castelfusano pine forest near the coast south of Rome, and the authorities arrested a man suspected of arson.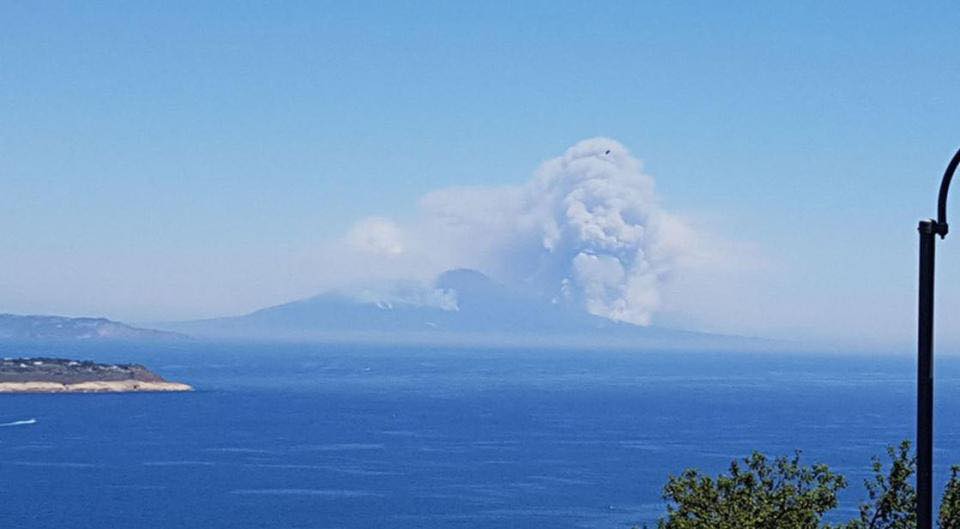 Fires have also ravaged the national park on Vesuvius for several days, and a beach resort on the western tip of Sicily was evacuated last week.
Thousands of acres of pine forests, national parks, fields and pastures have burned in central and southern Italy in recent weeks.
Did you see the giant skull above Italian volcano Mount Vesuvius in clouds of smoke thrown up by wildfires? Have a look again!