A follower of the blog just sent me some insane pictures of the Pamlico and Neuse rivers, two tidal rivers that flow into Pamlico Sound in North Carolina in the United States, almost completely dry.
Strong northeast winds across Eastern Carolina are causing some river banks to become high and dry.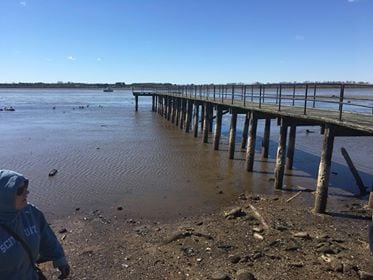 In Washington, the Pamlico River has set a new record for the lowest water level. The river stands at -3.81 feet, breaking the old 1989 record of -3.70 feet.
Strong winds are pushing the water out. At the Washington boat ramp the ramp is hardly in any water at all.
Similar problems are also occurring in New Bern at both Union Point Park and Lawson Creek Park where water from both the Neuse and Trent rivers are being pushed out.
Here some more pictures from Pamilco River on Facebook.
Is the water receding phenomenon due to the bombogenesis winter storm Riley currently engulfing the US East Coast? Or is this weird event due to the full moon tides? It seems that both events have a large effect on the tides… A totally unusual effect.
Here some more pictures on Facebook
via WITN