A bizarre mummy from ancient Egypt combining the heads of a girl and a crocodile was photographed for the first time in more than a century. The mummy is composed of the head of an unidentified ancient Egyptian princess and the head and body of a Nile crocodile.
According to the legend, after the princess was killed by a crocodile, the local ruler decided to combine them in hopes she would be resurrected in the afterlife as a crocodile.
Unlike other Egyptian mummies kept at the Istanbul Archeology Museum, the 'two-headed' mummy was locked away from public at Istanbul's Topkapi Palace, after Ottoman Sultan Abdulhamid II 'exiled' it in the 19th century. It was previously stored in Yildiz Palace, which was the sultan's residence at the time.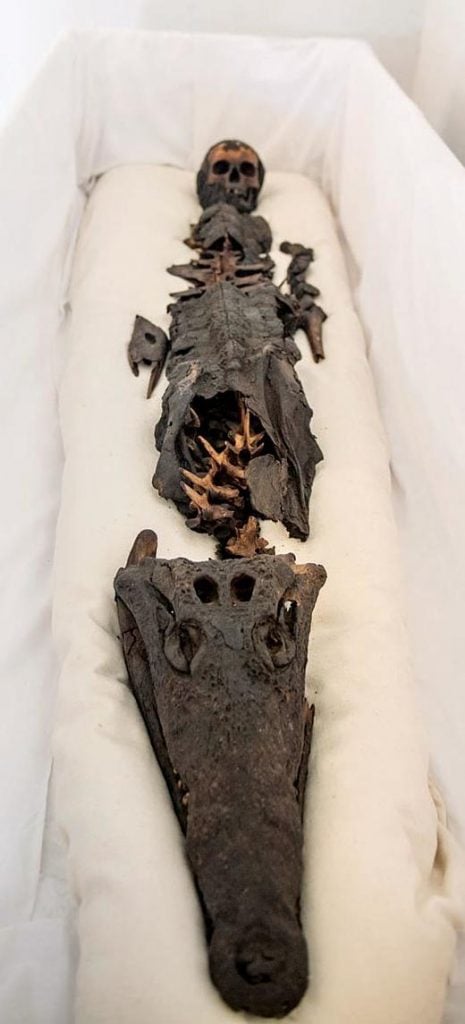 In ancient Egypt, there were several crocodile cult centers and also a large crocodile necropolis. The strength of crocodile was a subject of fascination and also awe. The ancient Egyptians worshipped this crocodile as the embodiment of Sobek, the crocodile god, and many were mummified after their deaths. In the underworld, the deceased were often threatened by a crocodile.
Sobek was the Egyptian crocodile god of strength and power. He was also and patron of the Egyptian army and royal warriors. His crocodile head was used as a recognition aid and a device to visually convey the powers, identity and attributes of the god. Sobek had titles such as "The Rager", "Lord of the Waters" and "Lord of Faiyum". Sobek was a 2,500-year old crocodile worshipped in life by the ancient Egyptians and mummified with all due reverence after death.
Hurriet Daily News – The two-headed mummy that stirred panic in Ottoman palace