April 2019 has brought plenty of extreme weather across the United States, including record-breaking rain and snow and a state record tornado outbreak for any time of year. Here's a look back at some of locations that have set new historical weather records this month.
Late-Season Snow Rarities in Chicago
Chicago is the most recent entry into the list of extremes we've seen in April.
The Windy City picked up 2.5 inches of snow from Winter Storm Xyler on Saturday. That's the latest in the season accumulating snow has occurred there in more than 25 years. It was also the first time this late in the season that a single calendar day has had 2 inches or more of snowfall.
Xyler's snow occurred about a week after Chicago saw 5.4 inches of snow on April 14. The only other day with as much snow so late in spring was April 16, 1961, which also had 5.4 inches of snow, according to the National Weather Service.
Neither snow event stuck around on the ground for long. For example, you can see Xyler's snow rapidly melting away over the course of a few hours in this satellite loop from Sunday.
April Rain Record Toppled
Asheville, North Carolina, clinched its wettest April on record with 11 days left to go in the month on April 19. Its rainfall total this month is 8.97 inches, beating out the previous record-wet April of 8.70 inches in 1998.
Most of the rain fell on April 19 when 5.29 inches soaked the western North Carolina city, making it the third-wettest calendar day on record there for any time of year.
Several other cities have had a top five wettest April through April 29, including Hartford, Connecticut (second-wettest), Eugene, Oregon (third-wettest), Worcester, Massachusetts (fourth-wettest), Raleigh, North Carolina (fourth-wettest), and Missoula, Montana (fourth-wettest).
Rainy Day Records
In some cities, it wasn't so much the quantity of rain, but rather, the quantity of days it rained this month.
Boston has recorded measurable rain (0.01 inches or greater) on 20 days in April. That's the record-most number of days with measurable rain in Beantown for not only April, but also any other calendar month of the year.
On the other side of the country, a record was set at Seattle-Tacoma International Airport for the most consecutive days with measurable rain in the month of April.
The Emerald City saw 0.01 inches or more rain for 12 straight days between April 3 and 14. That toppled the previous 11 day record set 64 years ago from April 7-17, 1955.
Record Mississippi Tornado Outbreak
The National Weather Service confirmed 44 tornadoes touched down in Mississippi during an outbreak of severe weather on April 18.
A survey team found one more tornado, an EF-1 near Pulaski in Scott County, from April 18th. The total is now 44, which ties the all time record for most tornadoes in an event for Mississippi from Sept of 2005 during Hurricane Rita. No additional surveys are planned at this time. pic.twitter.com/9LySU2j5Cp

— NWS Jackson MS (@NWSJacksonMS) April 29, 2019
That tied with the 44 tornadoes spawned by Hurricane Rita Sept. 24-25, 2005, as the largest tornado outbreak on record in the state.
No additional surveys of the damage from that day were planned as of late Monday.
Record-Early Loss of Ice on Alaskan Rivers
Mild, record-breaking temperatures in Alaska caused ice on at least two of the state's rivers to break up at a record-early date.
The Tanana River in the town of Nenana had its ice break up on April 14, about six days earlier than the previous record set on April 20 in 1940 and 1998. Ice breakup records are extensive at this location, dating back to 1917.
The Kuskokwim River at Bethel also set a record when the ice broke up there on April 12. That easily beat the previous record from a few years ago, April 20, 2016. This location also has a long history, dating to 1924.
Winter Storm Wesley Breaks Snow Records
The month began with Winter Storm Wesley topping all-time monthly snowstorm records in South Dakota.
Wesley buried Watertown, South Dakota, with 25 inches of snow April 10-12. That's the largest three-day snowstorm total on record there, beating a late-March 1937 storm, which brought the city 20 inches over three days.
New all-time two-day snowstorm records for the month of April were also set by Wesley in both Huron, South Dakota (18 inches), and Mitchell, South Dakota (16.2 inches).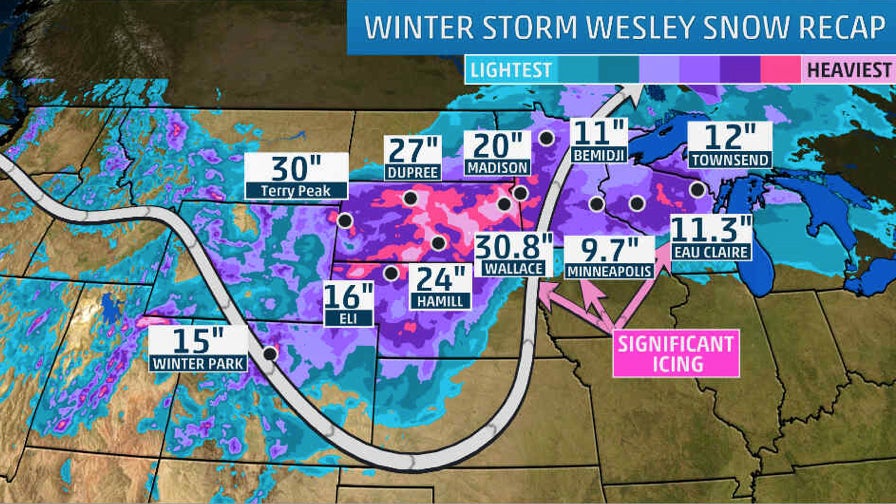 Near-Record Warm April in the Mid-Atlantic
Finally, it's been one of the warmest Aprils on record in the mid-Atlantic region.
Washington was experiencing its second-warmest April on record through April 28. Philadelphia and Baltimore were on track for their third-warmest April on record.
Interestingly, both Washington and Philadelphia just recorded their warmest April two years ago in 2017.
The weather is going crazy… from Coast to Coast!
Follow us on FACEBOOK and TWITTER. Share your thoughts in our DISCUSSION FORUMS. Donate through Paypal. Please and thank you