It's not just happening in the USA. Nope! Extreme weather events are devastating crops and thus the food business around the world. From Australia to North Korea and Argentina here are the latest reports of food shortage around the world.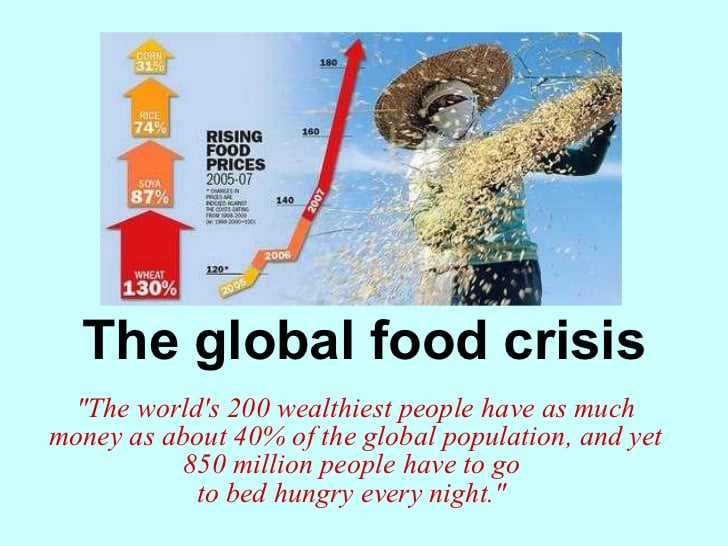 Australia imports wheat for first time in over a decade after worst drought in 116 years
Australia is normally the biggest wheat exporter in the Southern Hemisphere, but the prolonged drought has fried its grain crop in recent years. In 2018, output tumbled 20% to just over 17 million tonnes, the lowest in more than a decade, according to the US Department of Agriculture. On May 9, 2019 the Australian government had no choice but to import 60,000 tons of wheat from Canada. 
"Due to the worst drought in 116 years, high-protein wheat is in short supply which is critical to the Shoalhaven Starches wheat-processing plant," a spokesman for the plant said. 
"The reason this announcement has garnered so much attention is that it just doesn't happen," said James Maxwell, an analyst for Australian Crop Forecaster. 
The cargo is expected to arrive in the next 6 to 8 weeks and will be processed at Manildra Group's Shoalhaven Starches plant in NSW.
The last such shipment was back in 2007 (solar minimum of cycle 23).  – ABC.net.au
Floods, hail and bad weather affect fruits and vegetables in Italy
According to some sources, it is estimated that over 70% of Basilicata stone fruit has been lost. Alarming percentages, considering that the agricultural sector is the cornerstone for the economy of this region.

"Whole stone fruit fields have been destroyed. The watermelon seedlings planted a few weeks ago have been broken by hail," says Francesco Musillo, director of Agorà PO, who adds: "Even on the covered vineyards, the hail weighed down the covers, breaking the structures." – Fresh Plaza
Planting in France slowed down by extreme cold temperatures
Corn sowing in France slowed again this week, losing its lead to last year, after persistent cold weather continues to hamper the central European nation's planting efforts. 
France is the third largest corn exporter in the world, meaning a delayed or poor harvest will have a pronounced impact on global markets. – ElectroVerse
Severe drought devastates crops in Yucatan, Mexico
The drought in the Mexican state of Yucatan has put the agrarian sector up against the ropes. More than three thousand producers have been unable to save their crops due to the lack of irrigation infrastructure.
According to the president of the Association of Horticulturalists of Yucatan, Jose Filomeno Tejero Poot, if the drought lasts longer, a large part of the state's harvest will be lost and they will have to bring food from other parts of the country to supply the demand of the population of Yucatan. – Fresh Plaza
Lowest rainfall in 100 years leaves millions at risk of starvation in North Korea
North Korea's worst drought in decades is being driven by the lowest rainfall in a century, according to the country's official state newspaper. 
North Korea received just 56.3 millimeters (2.21 inches) of rain or snow from January to May 15, the lowest amount since 1917.
Water is running out in the country's lakes and reservoirs, and explained the lack of rainfall "is causing a significant effect on the cultivation of wheat, barley, corn, potatoes and beans. – Newsweek
Spring's record-late arrival in parts of the U.S. has catastrophic consequences for food industry – Food prices set to rise!
The calendar might have said it was spring more than a month ago, but the physical signs of it around us told a much different story. According to officials data, this was the latest arrival of spring in 38 years of records for parts of Kansas and Oklahoma. Portions of Washington and Oregon also saw the latest spring start on record. 
In parts of the Plains, in places like South Dakota, Nebraska and even into Oklahoma, a late spring like this year's only happens once every 10 or more years. Many farming fields are ruined and will not be planted this year. Otherwise, planting has been dramatically delayed. – Strange Sounds
Cracks are appearing in the edifice of modern agriculture: Australia's biggest grain producer's revenue collapses after horrific crop losses
Floods leave 600 000 ha (1.5 million acres) of crops damaged in Argentina
In a recently released report, the National Institute of Agricultural Technology estimated there are 600 000 ha (1 480 000 acres) of crops affected by heavy rain and flooded roads, which interrupted the harvest of soy, corn and alfalfa crops.
In some areas, crops were under 40 cm (15.7 inches) of water, so owners decided to abandon them. – Telam
Food demand is steadily increasing, but food production is decreasing. There is a clash between demand and offer… And at the end we will pay the price. Food shortage around the world is true. Prices are set to rise. Be ready!
Follow us on FACEBOOK and TWITTER. Share your thoughts in our DISCUSSION FORUMS. Donate through Paypal. Please and thank you