It's like a scene out of a horror movie… But pure reality!
An elite primary school in Hangzhou, China is making its students wear brainwave-reading headbands that can supposedly detect their attention levels in the classroom.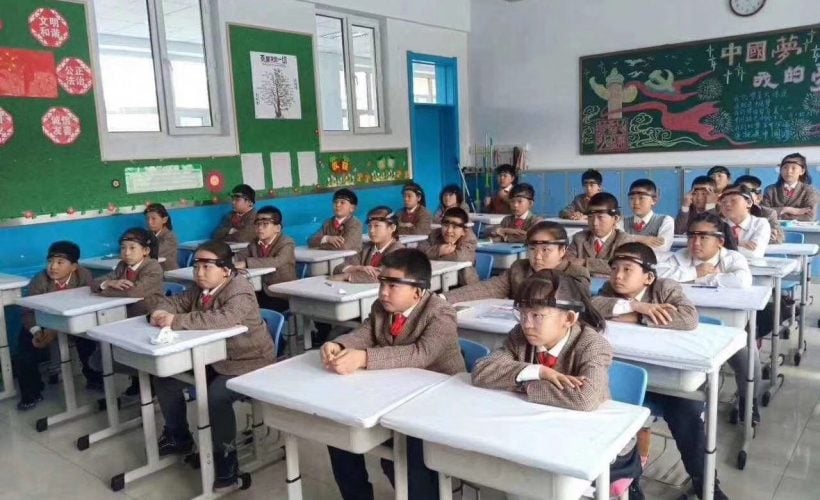 The practice was exposed in a series of photos, showing students at Jiangnan Experimental School wearing black electronic headbands while in class.
The devices are produced by BrainCo Inc., a Harvard University-backed startup based in Boston. According to sponsored content, the high-tech company is dedicated to developing Brain Machine Interface technology with a focus on big data and brain science.
The students in Hangzhou were given the Focus 1, a flagship product of BrainCo, which detects and quantifies students' attention levels. The headbands come with a portal called Focus EDU, which the company boasts as "the world's first classroom portal for teachers to assess the effectiveness of their teaching methods in real time and make adjustments accordingly."
As the photos suggest, the analytical system seems to be working pretty well at the school. One photo shows a digital screen that displays real-time ranking of students' concentration levels.
At the end of a class, the portal provides a report that highlights students with the three highest scores.
A bit of research reveals that Jiangnan Experimental School is far from the only educational institution in China that has embraced the brain-machine interface. The Paper.cn reported (in Chinese) in February that in the city of Jinhua, Zhejiang Province, a primary school introduced the same products in its classrooms. Teachers are able to tell what students are not paying attention based on colors that light up on their headbands.
BrainCo's sales strategy appears to be heavily China-focused, perhaps targeting Chinese parents who are overbearing and grade-obsessed. PRNewswire notes that BrainCo locked a lucrative multi-million dollar deal with one of China's leading import and export companies in 2017. According to another 2017 article, a website focused on education technology, the company scored $15 million in venture funding from Chinese investors.
The photos provoked a wave of angry reactions on Chinese media. Some found the revelation especially eerie after the recent news about street cleaners in Nanjing being forced to wear digital wristbands that monitor their job performance.
China's 'social credit system' is a dystopian nightmare, a real-life example of Orwell's "1984" and a potential future if increasing government surveillance is left unchecked.
By the way, I woukd suggest adding an electroshock feature to wake up sleepy students in class :-).
[SupChina]
Follow us on FACEBOOK and TWITTER. Share your thoughts in our DISCUSSION FORUMS. Donate through Paypal. Please and thank you