Mother Nature may be looking at the wrong calendar.
It's going to feel much more like winter than May for Mother's Day weekend from the Great Lakes to the Northeast and South.
An extreme weather pattern is setting up for Mother's Day weekend that will shatter dozens of temperature records, wring out strange May snow in the interior Northeast and possibly set May pressure records both in parts of New England and northern Canada.
Here the most important points in summary:
An extreme weather pattern is setting up for Mother's Day weekend.
Dozens of daily records will fall in the Great Lakes, East and South.
A frost is possible as far south as parts of the Carolinas and Southeast this weekend.
Some wet snow is likely Friday night and Saturday in the interior Northeast.
This could include rare May lake-effect snow in some of the Great Lakes snowbelts.
Low pressure could undergo bombogenesis along the New England coast.
May pressure records could be set along the New England coast and in northern Canada.
What is going on now?
Rain will continue to spread into the mid-Atlantic and Northeast into Friday evening with snow expected in parts of northwestern Pennsylvania and upstate New York.
Light snow began to fall midday Friday in Buffalo, Rochester and Erie.
Forecast: Snow and Wind
As the frontal system moves through the Ohio Valley and Northeast on Friday, the air will be just cold enough to produce some wet snow in parts of the interior by Friday afternoon into Friday night.
On Saturday, snow, possibly heavy, is expected to continue in parts of northern New England, particularly in Maine, as the intense potential bomb cyclone wraps moisture into sufficiently cold air.
Extreme Mother's Day Weekend: Record cold into the South, #snow in the Northeast and a potential New England #BombCyclone. https://t.co/PG6OAeH98q pic.twitter.com/PnnTkq3SjF

— The Weather Channel (@weatherchannel) May 7, 2020
The best chance of accumulating snow will be over the higher terrain, but even lower elevations down to valley floors could have a bit of wet snow.
The heaviest snow accumulations are expected in the high country of northern New England, where over 6 inches of wet, heavy snow is possible. The National Weather Service has issued a winter weather advisory for northern Maine for Saturday where slippery roads are likely.
Not much change from 24 hours ago according to 18Z THU GFS, but there are now high chances of the system becoming a "bomb cyclone" as it moves east of New England. Look for some surprising snow amounts by mid May standards from this one. @TomMoorewx @TomNiziol https://t.co/ECRYwzoiOH pic.twitter.com/P5alGqjXEK

— Guy Walton (@climateguyw) May 7, 2020
As the storm intensifies, strong winds on Saturday, potentially lasting into Sunday morning, combined with the weight of wet snow, could trigger power outages and lead to some tree damage, particularly in northern New England.
Sustained winds will be over 20 mph at times with gusts 30 to 50 mph possible in the Northeast Saturday. The wind combined with below-average temperatures will make it feel even colder.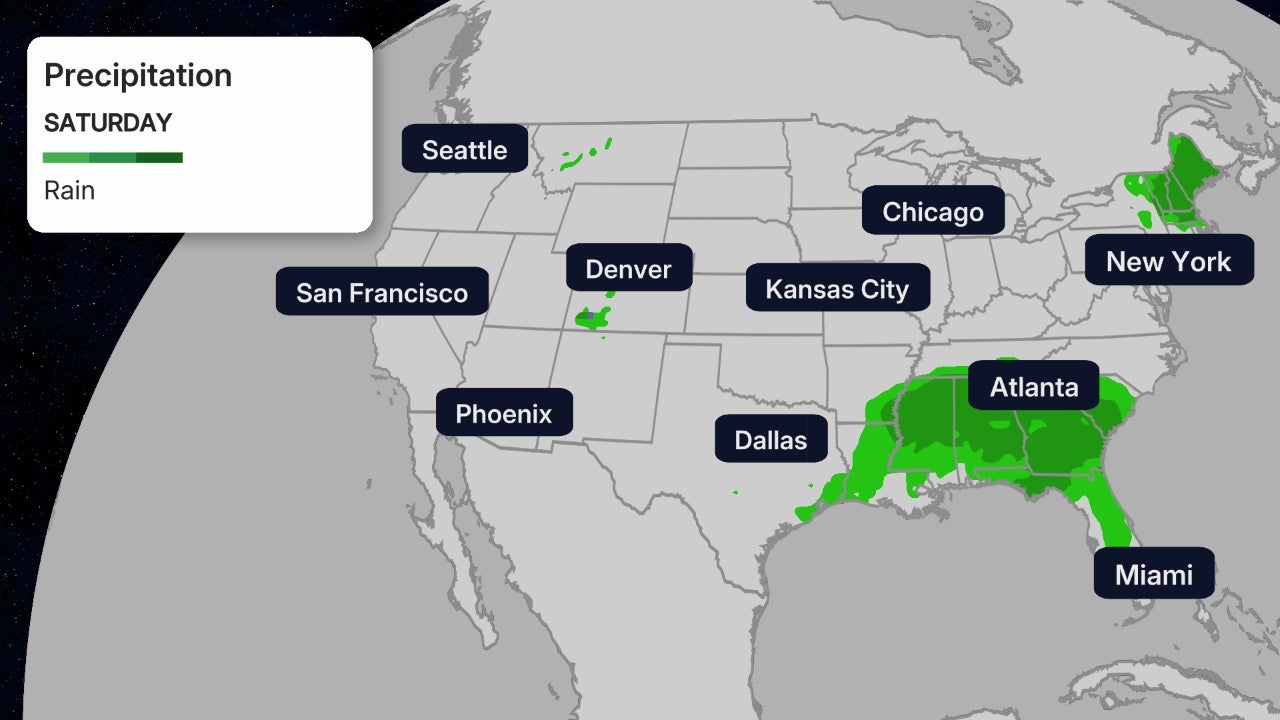 As if that wasn't strange enough for the second weekend of May, some lake-effect snowbands may set up for a time on Saturday downwind of the eastern Great Lakes. Lake-effect snow is quite rare this time of year for two reasons:
As we progress deeper into spring, the sun is higher in the sky, so temperatures typically warm up too much to generate much snow, particularly during the day.
The Great Lakes are usually relatively cold from the past winter, and therefore, it's more difficult to generate enough of a temperature difference between the lake and the air above it that would manufacture lake snowbands.
In addition, some thundersnow is possible with intense snow squalls on Saturday, the NWS office in Binghamton, New York, noted in a Wednesday forecast discussion. These could lead to abrupt reductions in visibility that could make driving dangerous.
Is this May…or January? Here's a look at the latest snowfall forecast for tonight, expected wind gusts Saturday, and yes, wind chills Saturday afternoon. Any snow accumulation will be limited to the hills & mainly on the grass. ❄️⛄️? pic.twitter.com/pToirY35lC

— NWS Boston (@NWSBoston) May 8, 2020
Forecast: Record Cold
On Friday, the stronger cold front will sweep across the Midwest and East, making it feel more like late March than early May. High temperatures will be 10 to 25 degrees below average Friday into Mother's Day weekend.
Decreasing clouds this evening. Clear, a freeze, record breaking cold overnight. Clear to partly cloudy, very cool Saturday morning. Sun and clouds, very cool tomorrow afternoon. #cincywx Recent temperature trends, 3pm radar, 24 hour forecast: pic.twitter.com/ZVyirUR8yw

— Scott Dimmich (@ScottDimmich) May 8, 2020
Highs will only be in the 40s in most areas from the upper Midwest to the Great Lakes and interior Northeast on Friday. Much of the Northeast will stay in the 40s on Saturday. Some locations in the northern Great Lakes and in the higher elevations of the interior Northeast might not get out of the 30s.
Numerous daily record cold high temperatures are possible in the Midwest, South and East into early next week.
Low temperatures will be downright cold for Mother's Day weekend, even in parts of the South.
Lows in the 30s will plunge into parts of the Carolinas and Tennessee Valley, including Nashville, Tennessee, where the average low this time of year is in the mid-50s.
Early-morning temperatures in the 20s are expected in the Great Lakes, Ohio Valley and parts of the interior Northeast.
This late-season cold air might harm any sensitive spring vegetation where a frost or freeze occurs.
The National Weather Service has issued freeze warnings and frost advisories from Nebraska and southeastern South Dakota into much of the Midwest, parts of the mid-Atlantic and as far south as northern Georgia.
This weekend cold will threaten scores of daily record lows for May 9 and 10 in the Midwest, South and East. The graphic below shows Saturday morning's forecast lows compared to the record to beat that day for a few selected cities.
Temperatures could also approach some all-time May record lows in a few spots this weekend, including Detroit (25 degrees), Lexington, Kentucky (26 degrees), Pittsburgh (26 degrees), Indianapolis (28 degrees), Knoxville, Tennessee (32 degrees), and Nashville (34 degrees).
Extreme Pattern
This weather pattern would grab the attention of meteorologists in the middle of winter, much less the second weekend of May.
Basically, the jet stream will resemble a white-knuckle ride on a roller coaster.
Blocking high pressure near Greenland and another "omega block" of high pressure bulging northward from the West Coast of the U.S. to the Arctic Ocean northeast of Alaska will work together to force the jet stream to take a sharp southward plunge over the Great Lakes and Northeast.
There are several parts of this pattern that could be record-setting.
The Weather Channel meteorologist Jim Cantore noted temperatures in the mid-levels of the atmosphere – for meteorologists, the 500-millibar level – could reach minus 40 degrees (Celsius and Fahrenheit) over the Great Lakes this weekend, a first anywhere in the U.S. in May, according to data from NOAA's Storm Prediction Center dating to the mid-20th century.
I love how the polar vortex waits till May to finally drop south, but ma nature waits for no one right. The same group that tweeted this states the 500mb temps (deeper fushicia) dip to -40C over the Great Lakes which has never been recorded in May. https://t.co/ubIdX81Qks

— Jim Cantore (@JimCantore) May 5, 2020
Secondly, intensifying low pressure in the Northeast may become a bomb cyclone – a drop in the storm's central pressure by at least 24 millibars in 24 hours or less – by the time it moves into the Gulf of Maine on Saturday. The storm could be strong enough to set all-time May pressure records along the Maine coast, according to data compiled by David Roth, a meteorologist at NOAA's Weather Prediction Center.
Forecast guidance now suggesting low pressure may undergo #bombogenesis by the time it reaches the Gulf of Maine Saturday. Yes, it's May.

If that's not enough, it may threaten all-time May low pressure records along the Maine coast, according to data compiled by @DRmetwatch. pic.twitter.com/ibeGSYDRMN

— Jonathan Erdman (@wxjerdman) May 7, 2020
If that wasn't enough, Roth noted the strength of high pressure over the Canadian Arctic could set May high-pressure records there.
The Wednesday set of WPC progs imply record high pressures could be possible as late as the 10th near SW Nunavut and the southeast portion of the Northwest Territories. pic.twitter.com/SWNgoGj0pD

— David Roth (@DRmetwatch) May 7, 2020
Well yeah! It's going to feel much more like winter than May for Mother's Day weekend from the Great Lakes to the Northeast and South. Be prepared! More extreme weather news on Strange Sounds and Steve Quayle. [Weather]
Follow us: Facebook and Twitter. By the way you can also support us on Paypal. Please and thank you!