In the last few days, winter has staged a surprise return in many countries around the world!
And yes! We are in May!
The weather is going out-of-control, with anomalous wintry temperatures and snow reported from the U.S. to Scotland, Russia, Argentina, and Canada in MAY. In this the new normal?
Polar vortex freezes big chunks of U.S.
Thousands of people were without power in Maine after a punishing spring storm brought snow and high winds Saturday to New England.
The frigid cold, caused by a polar vortex that blasted in from the north, set a number of records across the region.
A number of May 9th low temperature records were broken or tied this morning. Binghamton NY broke their record for the coldest temperature in all of May. State College PA tied their May low temperature record. pic.twitter.com/QHorBbvphV

— NWS Eastern Region (@NWSEastern) May 9, 2020
The polar vortex is a batch of cold air that stays trapped in the Arctic all winter, but a couple of times during the season, it can wander south and bring bone-chilling cold and snow to Canada and parts of the U.S.
What it's like in Maine today…snow in May #Maine #snowinmay pic.twitter.com/tRsGIfXs4F

— Austin J. K. (@iAustintacious) May 9, 2020
A low-pressure system off the coast of southern New England on Friday helped pull the cold air down from the north, lan Dunham, a meteorologist with the NWS in Norton, Mass.
Much of the Northeast saw rare May winter weather conditions, with freezing temperatures, snow and high winds from late Friday through Saturday. [FoxNews]
"Very rare" May snowfall surprises residents of Ardahan, Turkey
The snow surprise occurred on May 10, 2020. Trees that were prepared to bloom in May were covered by so much snow that branches of some trees were broken. [CNN]
Wintry conditions engulf southern and central Finland
After warm, sunny conditions in southern and central Finland on Sunday, the week began with a sudden shift in the weather, bringing more than 5 cm of snow to parts of southern and central Finland due to a cold pulse from the Arctic Ocean on May 11, 2020.
There is still more than a metre of snow in the far northwestern arm, and over 80 cm in much of the rest of Finnish Lapland. [Yle]
Snow in Dagestan, Russia
The anomalous weather engulfed Dagestan on May 10, 2020. [Youtube]
Scotland blanketed in snow
Parts of Scotland were white on May 10, 2020, as winter made a comeback despite it being May.
People in the Highlands woke up to a blanket of snow, with icy roads and frosted fields. [Metro]
Snow in Ontario and Alberta, Canada
The unusual snowfall hit parts of northern Ontario on May 8, 2020, and it has blanketed areas of the region in fresh powder.
The unseasonable snowfall is the result of a polar vortex sweeping over the region that's expected to last throughout last weekend.
Meanwhile, the COLD TIMES are returning in Calgary which reports its longest stretch of temps < 20°C (< 68°F) in recorded history:
Yesterday was #Calgary's 216th consecutive day with maximum temperature <20°C which makes this the longest run in more than 80 years, since May 12th, 1933. #YycWx pic.twitter.com/XNnGQUjXt9

— Calgary Weather Records? (@YYC_Weather) April 26, 2020
What is going on in Canada right now? [BlogTo, Electroverse]
May snow and cold in Norway
The Meteorological Institute sent out yellow danger warning about lots of snow in Trøndelag on May 5, 2020. More than 20 centimeters of snow fell within 24 hours.
This is a continuation of the recent snowy weather in the region witnessed at the end of April:
Even locals were baffled by the wintry conditions… [IceAgeNow]
Snowfall a month earlier in Argentina
The first snowfall of the year occurred in Bariloche, Argentina on May 4, 2020. This is almost 1 month before 2019.
In this way, winter was brought forward a month with the first snowfall of the year. In 2019, the first snow fall was on the summit of the hills on April 5, although the city was covered in white on May 29. [Elonce]
Snow in Albania and Romania
Yes, it did snow in Romanian mountains between May 5 and 7.
The spring in south east Europe is very cold, unusually cold. Some trees tke indeed very long to grow their leaves.
Meanwhile in Albania, snow was reported on May 7:
I mean it is very strange as we are approaching June and summer.[IceAgeNow, Youtube]
The month of May brings record (sometimes historic) cold to both hemispheres
A meridional (wavy) jet stream flow – associated with low solar activity- is in full swing, dragging brutal polar air anomalously-far south/north.
Record (sometimes historic) COLD is currently buffeting vast regions of the globe, from North America to Australia, Europe to Southern Africa.
NORTH AMERICA (MAY 10)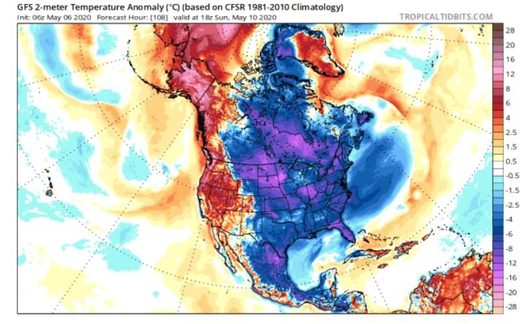 SOUTH AMERICA (MAY 7)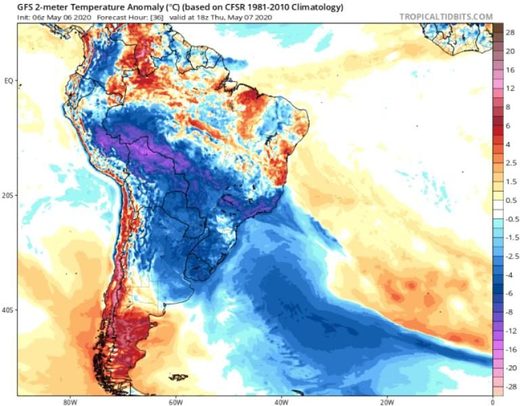 EUROPE (MAY 13)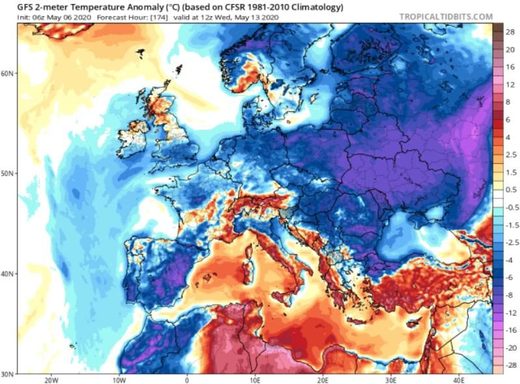 SOUTHERN AFRICA (MAY 11)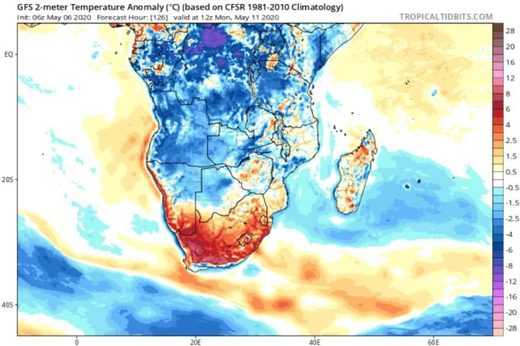 AUSTRALIA (MAY 21)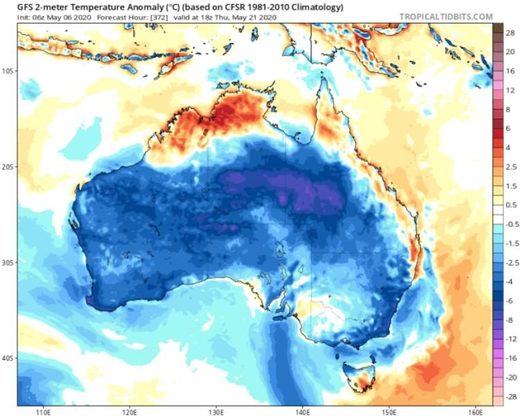 The planet as a whole has been substantially cooling for at least the past 5 years — even NOAA's own datasets confirm this.
And that cooling trend is continuing into May, 2020 — just as the Northern Hemisphere hits a key growing stage. Expect vast crop losses moving forward. Mitigate these by growing your own. Now is the time to get your hands dirty. More ice age news on [Ice Age Now] and [Electroverse].
Follow us: Facebook and Twitter. By the way you can also support us on Paypal. Please and thank you!