A gigantic landslide in Alta, Norway's far north, swept eight buildings into the sea on Wednesday, June 3, 2020.
And the slow-motion destruction was dramatically captured on video. OMG!
So far there are no reports of anyone dying or being injured by the 800m long, 40m high landslide, although a dog appears to have been swept away.
The dog however seems to have survived its terrifying experience as explained by Torfinn Halvari, from the local Finnmark police:
"A dog that was taken by the slide and swept into the sea rescued itself, swam ashore and is alive."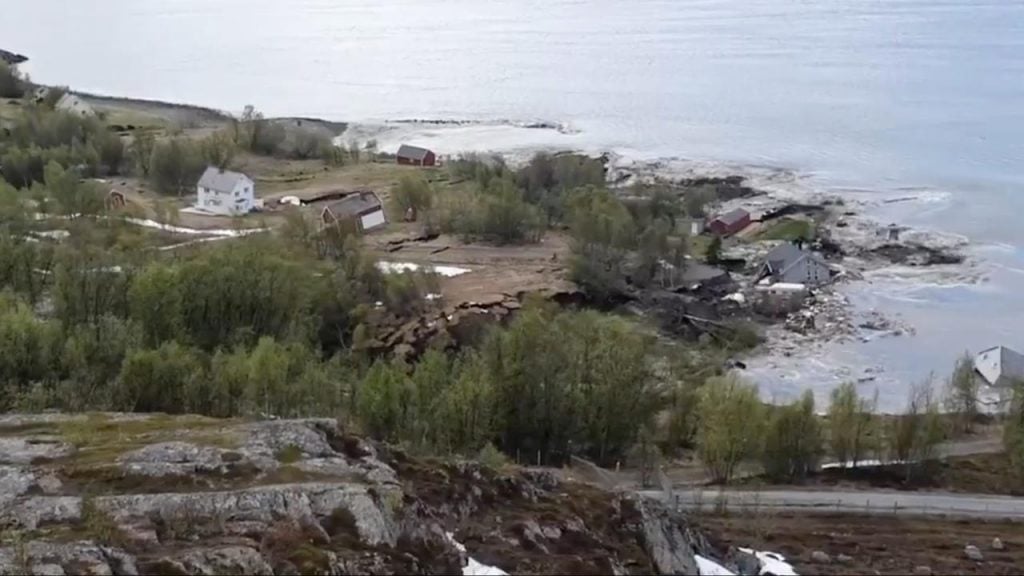 Now watch the monster landslide dragging all these buildings into the sea… It's terrifying!
Just now in Alta, Norway: Huge mudslide dragging several houses into the sea. pic.twitter.com/xR4t5zLI7m

— Jan Fredrik Drabløs (@JanFredrikD) June 3, 2020
"We still have on-site crews working to assess landslide security or the danger of new landslides," he added. "We cannot say with any certainty that no one has been taken by it."
Rissa landslide reminder
On the 29th of April 1978, a quick clay landslide devastated large areas of the rural district of Rissa, mid-Norway.
During this event, a person died whilst 13 farms; 2 homes; a cabin and a community center were taken by the clay masses.
Five to six million cubic metres of clay collapsed from an area of 330,000 m2 leaving a 1.5 kilometre slide face.
The landslide caused great material damage to the community of Leira when a resulting three-metre high floodwave breached the opposite bank of lake Botnen shortly after the main slide.
The Rissa landslide was caught on 8 mm cinefilm by two film amateurs. This is still used actively in avalanche preventative and educational work.
More apocalyptic nature disaster on Strange Sounds and Steve Quayle. [The Local]
Follow us: Facebook and Twitter. By the way you can also support us on Paypal. Please and thank you!