Do you have your AC on?
Because extreme deadly heatwaves have engulfed parts of the Desert Southwest United States, the Middle East and Europe.
In the U.S., California and Arizona are experiencing 115-120°F (46-49°C), Death Valley's temperature reaches up to 127°F (53°C). Meanwhile, parts of Iraq, Iran, and Kuwait come close to all-time records at 127°F (53°C)!
Unusually hot temperatures in USA
The temperatures were unusually hot in July 2020 across Arizona, New Mexico, and West Texas.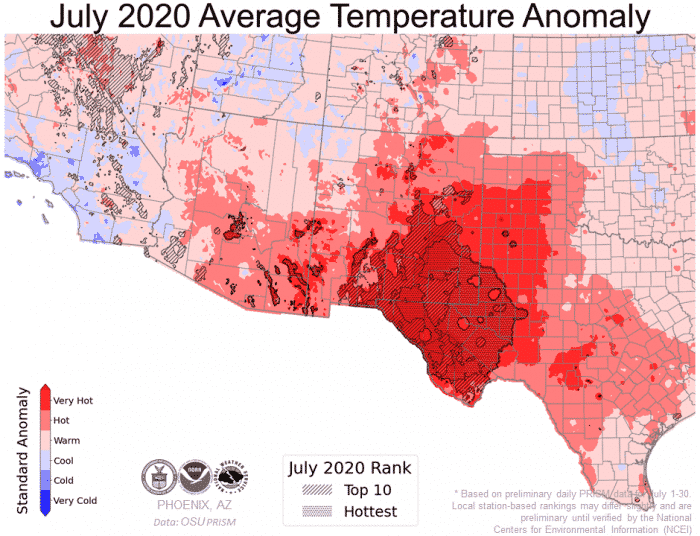 The southwest US is suffering all-time record temperatures. July 2020 was the hottest on record for Phoenix, Arizona, with temperatures up to 118°F (48°C) this week.
As shown in the gray spot on the map above, a killer heatwave has developed across a large part of the southwest United States, including Arizona, inland California (Death Valley), Nevada, and New Mexico in July 2020.
July 2020 was the hottest month on record for Phoenix, Arizona with a new average temperature of 99°F (37.2°C) compared to 98.3°F (36.8°C) in July 2009:
BREAKING Based on preliminary numbers, July 2020 is now the hottest month on record for Phoenix, AZ with an average temperature of 99.0 °F. This breaks the old record of 98.3 °F set in July 2009 and tied in August 2011. #azwx pic.twitter.com/fxMakI2kF5

— NWS Phoenix (@NWSPhoenix) July 31, 2020
Insane temperatures in Death Valley
Again, the Death Valley is making the headlines with this year's highest temperatures recorded in mid-July at 128°F (53°C).
There is even a picture of Death Valley park rangers near the temperature display in front of the Visitors Centre in Furnace Creek on July 13th showing an amazing 129°F (54°C).
If park rangers at Death Valley can wear a mask, so can everyone else. ? pic.twitter.com/sjov3dxIsV

— ?⚾️͏k͏o͏r͏b͏e͏l͏r͏e͏n͏o͏k͏i͏a⚾️? (@KorbelRenoKia) August 1, 2020
Furnace Creek has set the record for the highest temperature ever measured on Earth at 134°F (56.7°C)… This best mark was measured on July 10, 1913 and has never been broken since… I bet it will be soon.
127°F (53°C) across Iraq, Iran and Kuwait
The Middle East has also recorded excessive heat in the last weeks or so, with temperatures reaching 122°F (50°C) in Iran, Iraq, Kuwait, and Saudi Arabia.
The highest temperature in the last few days was 127°F (53°C) and was recorded in Iraq and Kuwait.
Weather forecast show that this apocalyptic heatwave will last until August 5, 2020. The highest temperature ever recorded in Kuwait is 129°F (53.9°C).
More extreme temperature and apocalyptic weather news on Strange Sounds and Steve Quayle. Now if you are looking for supplements to increase your healthy lifestyle and sexlife please visit Natural Health Source. [Severe-Weather]
Follow us: Facebook and Twitter. By the way you can also support us on Paypal. Please and thank you!