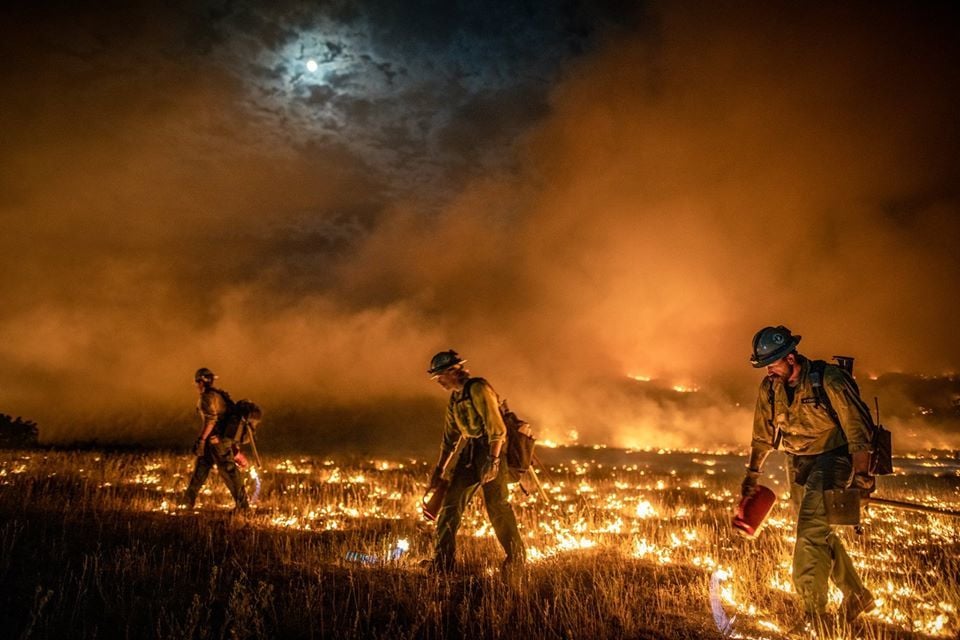 The Pine Gulch Fire grew more than 37,000 acres overnight, according to the Rocky Mountain Area Coordination Center. It's now 125,108 acres and the second-largest wildfire in Colorado history.
At more than 125,000 acres, the fire has surpassed the size of the 2018 108,045-acre Spring Creek Fire.
Pine Gulch fire is now second largest in Colorado history. The fire is now at 125,108 acres. #OneLessSpark

— RMACC (@RMACCinfo) August 19, 2020
The Rocky Mountain Incident Management Team said firefighting efforts at the Pine Gulch Fire are doing well on the northern and eastern side of the fire, but strong winds from a thunderstorm overnight caused the fire to expand westward.
For three to four hours, wind gusts reached speeds of 40 mph at the fire, creating "extreme and erratic fire behavior," according to the incident management team.
In addition, the fire produced hours of lightning Tuesday evening, according to the National Weather Service out of Grand Junction. NWS explained that under the right circumstances, a pyrocumulus cloud can form and create lightning and thunder at the fire.
All firefighters were able to get to safety during the storm. Fire supervisors were assessing the situation around 8:45 a.m., according to the incident management team.
Did you hear thunder in Grand Junction last night? That's right…the #PineGulchFire produced hours of lightning and occasionally the bolts were visible. Here is a video taken at our office. The 3rd largest wildfire in Colorado's recorded history is full of surprises. #cowx pic.twitter.com/1u4ZlaEtlG

— NWS Grand Junction (@NWSGJT) August 19, 2020
The incident management team said there is potential for a similar weather pattern Wednesday afternoon and evening as more thunderstorm cells move over the blaze.
This photo was 13 days ago.

The #PineGulchFire has now grown to over 125K acres (almost 200 square miles) and the 2nd biggest in the Colorado's history. Its 10 miles away from Fruita & under 10% contained.

Thanks to all the public servants involved in the response. Stay safe. https://t.co/tnrjeLq8kJ

— Graham Brookie (@GrahamBrookie) August 19, 2020
The Pine Gulch Fire is now the second-largest wildfire in Colorado history:
1. Hayman Fire (2002): 137,760 acres
2. Pine Gulch Fire (2020): 125,108 acres
3. Spring Fire (2018): 108,045 acres
4. High Park Fire (2012): 87,284 acres
5. Missionary Ridge Fire (2002): 72,962 acres
6. 416 Fire (2018): 54,000 acres
7. Bridger Fire (2008): 45,800 acres
8. Last Chance Fire (2012): 45,000 acres
9. Bear Springs/Callie Marie fires (2011): 44,662 acres
10. 117 Fire (2018): 42,795 acres
The Pine Gulch Fire was first reported on July 31 about 18 miles north of Grand Junction. It was caused by lightning.
Infrared sat loop shows the large pyrocumulonimbus created last night over the Pine Gulch fire which is also highlighted by the fire temperature filter #9wx pic.twitter.com/FKBjQBsJkK

— Cory Reppenhagen (@CReppWx) August 19, 2020
To learn more about evacuations, click here.
The Pine Gulch Fire is one of four major fires currently burning in Colorado that have already scorched more than 175,000 acres of land. The Grizzly Creek Fire has burned 29,000 acres, the Cameron Peak Fire in western Larimer County was 15,738 acres as of Wednesday morning, and the Williams Fork Fire burning in Grand County was 6,726 acres.
Vigorous pyrocumulus growth associated with the #PineGulchFire (seen here via GOES 16) has produced frequent lightning flashes (blue dots in the image) the last few hours. Thunder, lightning and falling ash have all been observed here at the office. Absolutely wild! ?⚡ #COwx pic.twitter.com/F7qIzaoNi7

— NWS Grand Junction (@NWSGJT) August 19, 2020
More wildfire news on Strange Sounds and Steve Quayle. [The Denver Channel]
Now if you are looking for supplements to increase your healthy lifestyle and sexlife please visit Natural Health Source.
Follow us: Facebook and Twitter. By the way you can also support us on Paypal. Please and thank you!