On Wednesday, May 11, 2022, the EU Commission has presented its EU draft law on mandatory chat control to the public for the first time. Although almost all Europeans are against its deployment…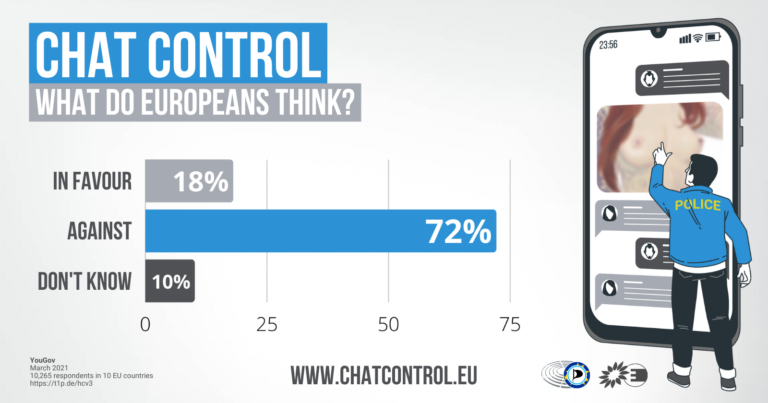 Similar to Apple's highly controversial "SpyPhone" plans, the Commission wants to oblige all providers of email, chat and messaging services to search for suspicious messages in a fully automated way and forward them to the police in the fight against "child pornography".
This will require them to monitor and scan the communications of citizens en masse – even if they are still securely encrypted end-to-end so far.
Doing so, the new law "would undermine the essence of end-to-end encryption" and would "make the EU a world leader in the generalised surveillance of whole populations. How, then, would the EU be able to speak out when undemocratic regimes enact the same measures?"
Protect your home and car against EMP, solar flares and lightning attacks with the best shield available…
Dr. Patrick Breyer (Pirate Party) comments:
"This spying attack on our private messages and photos by error-prone algorithms is a giant step towards a Chinese-style surveillance state. Will the next step be for the post office to open and scan all letters?
"Organized child porn rings don't use email or messenger services, but darknet forums. With its plans to break secure encryption, the EU Commission is putting the overall security of our private communications and public networks, trade secrets and state secrets at risk to please short-term surveillance desires.
"Opening the door to foreign intelligence services and hackers is completely irresponsible. To stop chat control, the net community must go to the barricades as!"
You will ALWAYS have electricity with this portable power station…
In March, 35 organisations worldwide, including the German Lawyers Association, Digitale Gesellschaft, and the Committee to Protect Journalists (CPJ), had warned against the EU's chat control law.
In an expert opinion, a former ECJ judge pointed out last year that the warrantless interception of private communications violates the case law of the European Court of Justice. According to a poll 72% of citizens oppose the indiscriminate scanning of their private communications.
The German government coalition agreement states on the topic on chat control: "We reject measures to scan private communications."
Meanwhile, on May 9, 2022, Yesterday, Member of the European Parliament and digital freedom fighter Patrick Breyer (Pirate Party) filed an action for an injunction against the so-called chat control against Facebook's parent company Meta Platforms Ireland Limited at Kiel District Court. [PB1, PB2]
Meanwhile, on May 22, the WHO plans to strip 194 nations, and the US, of sovereignty…
StrangeSounds.org is now running ad-free CLICK HERE TO SUPPORT MY WORK… I will send you a small gemstone if you give more than 25$… Thanks in advance!
Here some things to add to your disaster & preparedness kit: