Abortiporus biennis is a weird mushroom, a true oddball.
It is a gnarled, messy-looking mass of irregular white pores that exude a reddish juice and bruise reddish brown.
There is hardly a cap or a stem to speak of, and as it grows it engulfs sticks and blades of grass.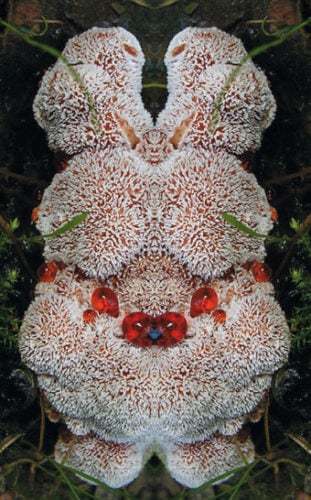 The shape of the fruit is very variable and normally shows no typical form.
But looking at these pictures you probably recognize animal and monster faces, among others: dogs, dragon and satan faces.
Just amazing can sometimes be so close to reality… Or is it actually reality! Yes I guess!
These strange mushrooms are not rare and mostly found on charred wood, growing alone or gregariously around the bases of stumps and living trees; causing a white rot in deadwood and a white trunk rot in living wood.