Why is the ground cracking up my town?
This is what terrified residents are asking officials as they observe giant Earth cracks forming in and around their homes in Peru.
This mysterious geological phenomenon started about five days ago and was first reported in Socosbamba, Peru.
But now it has now spread to 4 more localities – Almapampa, Sacachay, Chaupihuran and Rubbers – in the same Piscobamba province of Mariscal Luzuriaga, in Ancash.
As shown in the pictures, the Earth fissures have started damaging buildings, roads and fields.
Moreover, the Earth's cracks have already made 60 houses uninhabitable, destroyed two schools, sections of road, irrigation canals, cropland and water service.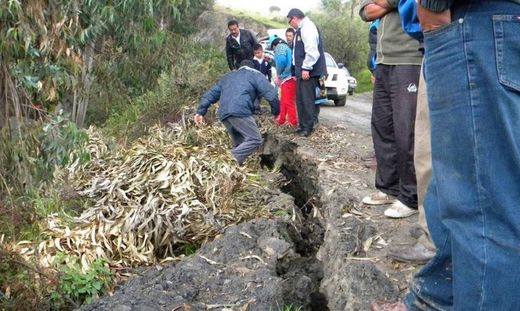 110 families have been heavily affected and have now to live in tents. The state of emergency has been declared and first aid kits have been distributed to the families.
Geologist aren't sure what's causing this mysterious geological phenomenon.
One thing is sure: Our Earth is cracking!