It's not every day that powdery snow covers the desert sand in Saudi Arabia.
But that's exactly what happened to parts of the country when temperatures dropped below freezing between November 23-24, 2016.
شاهد المقطع الذي صدم محترفي التزلج في أوروبا وأمريكا تزلج على الثلج في جبال اللوز بالطريقة السعودية#جبل_اللوز#تبوك pic.twitter.com/TOf6BKRZPe

— ماجد فتيني (@majed_waheep) November 23, 2016
The frigid temperatures and blanket of snow is an unexpected treat for Saudi Arabia's central and northwest regions. The daily high temperatures are normally around 20° C (68° F) even in the November 'cold season.'
Saudis are reacting with a healthy dose of humor, and even a few snowmen.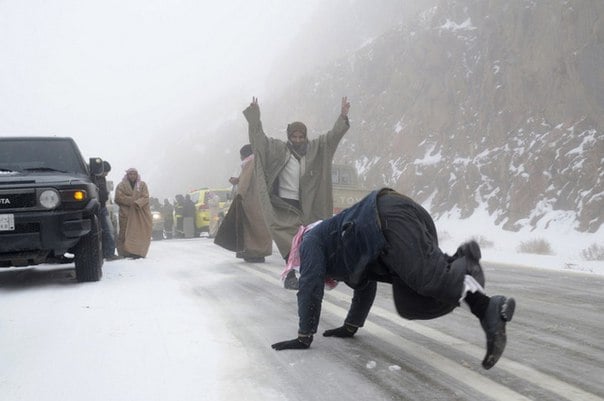 Some Saudis have taken to social media to express their thoughts on the winter surprise, with one man sliding on an icy road (video above).
Another noted that the weather was 'so European.' True I would say right now!
Others opted to play in the snow rather than drive, building snowmen which represented their favorite football clubs.
But while the building of snowmen may seem innocent enough, Saudis who took part in the activity during a freak snowfall in January 2015 were condemned by a cleric who called it sinful and 'anti-Islamic,' and issued a religious ruling forbidding the activity.
Snow today in Jabal Al-Lawz (mountain of almonds), Tabuk, Saudi Arabia. 23-11-2016/22-2-1438H #MyArabia ???pic.twitter.com/8CAVx8L1pC

— رسيس عبدالرحمن الفهد (@Rasees) November 23, 2016
The anomalous snowfall came as temperatures reached -3 ° C (26.6 ° F) in the Al-Jawf region and -1 ° C (30.2 ° F) in the northern province of Al-Quryat.
Just another unprobable weather anomaly that turns to be true!