The Ring of Fire is exploding right now with 32 volcanoes erupting, 33 showing unrest or minor activity, and several strong earthquakes.
The latest volcanic peaks to have erupted being Rincon de La Vieja and Turrialba in Costa Rica, Fuego and Pacaya in Guatemala, and the continuous seismic unrest at Mount Agung in Indonesia.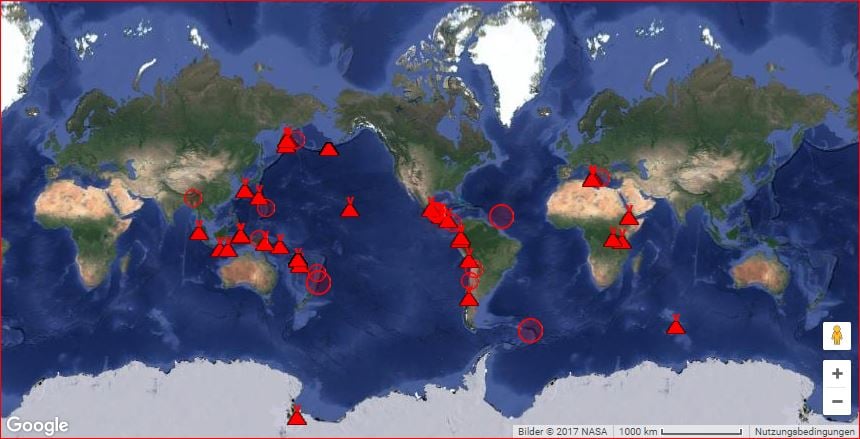 When adding volcanoes currently showing minor activity or under warning, the map looks even more terrifying: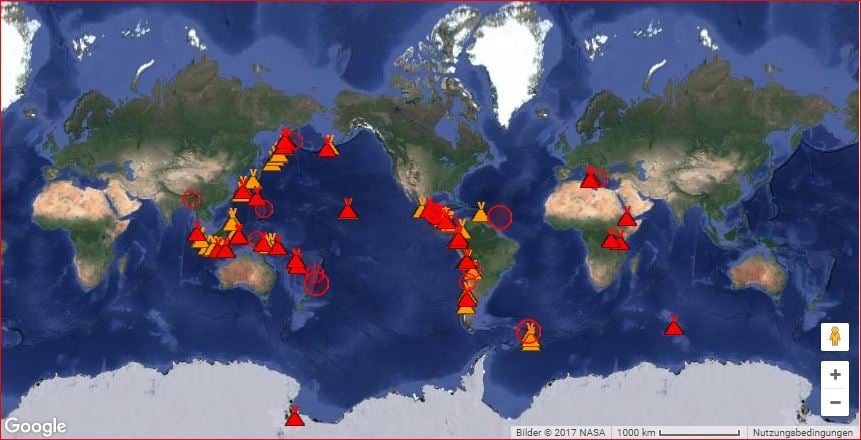 I you then add the volcanoes showing unrest, then you can clearly say that the Ring of Fire is exploding:
Middle and South America are currently showing increased signs of eruptive activity and volcanic unrest with Popocatepetl spewing ash consecutively during the last 4 days, a swarm of 600 earthquakes hitting below Llaima volcano in Chile, and 45 daily explosions at Sabancaya in Peru.
On October 3, 2017 Rincon de La Vieja and Turrialba in Costa Rica, Fuego and Pacaya in Guatemala started erupting, while Mount Agung in Indonesia was showing continuous signs of unrest:
On 3 October 2017, two phreatic eruptions – 8:48 and 14:45 local time – rattled Rincon de La Vieja in Costa Rica, sending a white plume at 500 meters, 700 meters and 1500 meters above the crater, respectively.
Just before, at 7:00 local time, a small eruption ejected ash and gas up to 500 meters above the crater of Turrialba in Costa Rica.
Ashfalls have been reported on Santa Cruz, Las Verbenas, Santa Teresita, Calle Vargas, Guayabito, La Isabel.
Meanwhile, in Guatemala, the Fuego volcano is exploding at a dramatic rate of 10-12 eruptions / hour, expelling plumes of ashes rising between 4,400 and 5,000 meters asl.
Depending on the direction of the wind and the power of the eruptions, ashfalls were reported at Antigua Guatemala, Alotenango, Villa Nueva, San Miguel Petapa and even reached Guatemala City.
The Pacaya volcano in Guatemala is also active with explosions sending materials 40-80 meters above the Mackeney cone crater. Officials say this new periodof activity is likely to result in larger explosions and new lava flows.
Finally, the situation hasn't much changed at Agung volcano in Indonesia. A small white plume is spewed out of the summit.
However, the seismic activity is still high on October 3rd, with 322 deep volcanic earthquakes, 287 volcanic earthquakes and 48 local tectonic earthquakes.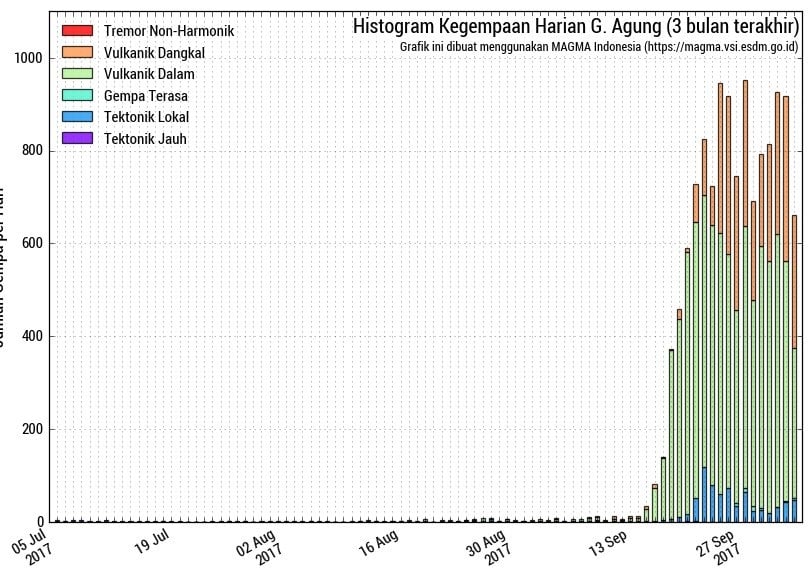 I you add to these volcanic eruptions the 4 strong earthquakes (>M5.0) from the last 24 hours (see map above), we can say that the Ring of Fire is clearly exploding… And nobody knows when it is going to slow down!