More than 70 people were injured after a walkway at the Indonesia Stock Exchange (IDX) building in Jakarta collapsed on Monday (Jan 15). Victims trapped under the debris were carried out on stretchers and people were evacuated after the walkway at Tower 2 collapsed just after midday. The walkway is located above the main lobby of the building and near the area where visitors are screened and checked before entering. The cause of the collapse is not yet known, but police said it was not due to an explosion.Here some terrifying videos of the tragic event:
Here the original video from Twitter, if the one above disappears:
Inilah detik-detik robohnya selasar atap lantai 1 Tower II Bursa Efek Indonesia (BEI), Senayan, Jakarta, roboh pada 15/1/2018 pukul 12.10 Wib. Puing menimpa sejumlah orang yang berada di bawahnya. Lebih dari 70 orang luka. #BreakingNews #ElshintaHotNews pic.twitter.com/1km8Hzlun9

— Sutopo Purwo Nugroho (@Sutopo_PN) January 15, 2018
Jakarta police spokesman Argo Yuwono said 77 people were injured and being treated at four hospitals, adding there were no fatalities in the incident.
Many people working in the building were crossing the walkway linking Tower 2 to Tower 1 of the building when it collapsed.
Many of the injured were university students who had been visiting the exchange.
Closed-camera footage that emerged hours later showed the platform giving way, with people fleeing from the falling walkway.
After the initial chaos, many rushed back in to help carry out the injured found amid bent steel structures, broken glass and other debris of what was left of the walkway.
13:11 : Info dari @shabrinalufha salah satu karyawan BEI : Gedung Bursa Efek BEI, Jakarta lantai 2 mezinen runtuh. pic.twitter.com/XrVCmJQFfO

— ernesto veles (@erveza) January 15, 2018
The director of the stock exchange, Alpino Kianjaya, declined to comment on the incident. Markets reopened at 1.30pm local time as usual and business resumed in the afternoon.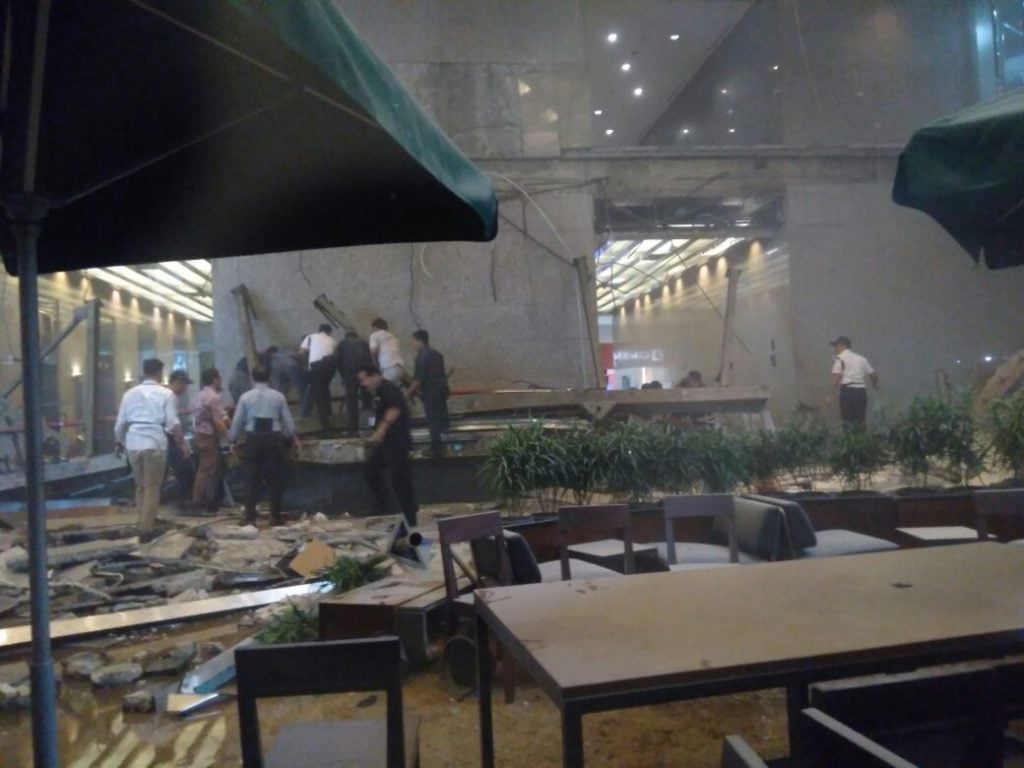 The complex, which also houses the local office of the World Bank, was targeted by Islamist militants in a car bomb attack in 2000. At least 10 people died and dozens were injured in that incident.