As many as 19 million people in 43 states may be exposed to harmful contaminants in their drinking water, according to the Environmental Working Group and Northeastern University. The different contaminated areas US-wide are visible in this new interactive map. PFAS chemicals can be found in everything from pizza boxes to nonstick frying pans and have been linked to birth defects, cancers, infertility and reduced immune responses in children.
An interactive map by EWG and the Social Science Environmental Health Research Institute at Northeastern locates publicly known pollution from PFAS chemicals nationwide, including public water systems, military bases, military and civilian airports, industrial plants, dumps and firefighter training sites.
PFAS, or per- and polyfluoroalkyl substances, can be found in everything from pizza boxes to nonstick frying pans. The Environmental Protection Agency says they have been used since the 1940s in stain- and water-repellent fabrics, Teflon cookware, polishes, waxes, paints, cleaning products, and fire-fighting foams. They have been called "forever chemicals" because they take so long to break down and some never break down.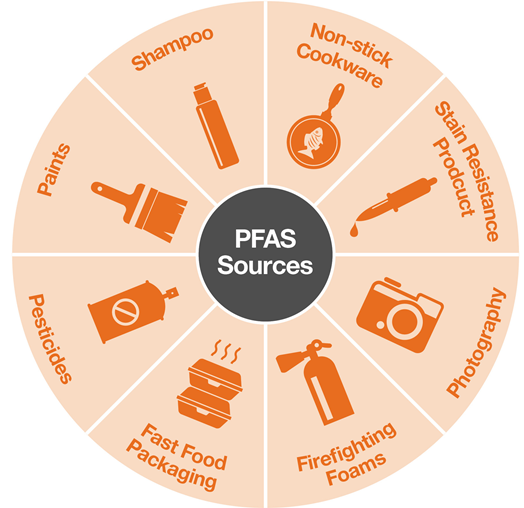 Studies have linked two types of PFAS chemicals — PFOA and PFOS — to birth defects, cancers, infertility and reduced immune responses in children. They are no longer manufactured in the U.S., but they are still imported from international sources in things like carpet, leather and apparel, textiles, paper and packaging, coatings, rubber and plastics.
"The updated map shows that PFAS contamination is truly a nationwide problem, impacting millions of Americans in hundreds of communities," Phil Brown, a Northeastern professor of sociology and health sciences and director of the Social Science Environmental Health Research Institute, said in a statement. "Leaders in many communities and states are doing great work to raise awareness about PFAS and push for cleanup, but this is a national crisis demanding national action. The EPA should act more quickly to evaluate all PFAS chemicals and restrict their use, and polluting industries should be held responsible."
A National water crisis
The interactive map pinpoints 610 locations that are known to be contaminated. Researchers used data released last year by the U.S. Department of Defense and public water utility reports to create the map. It includes 117 military sites, including 77 military airports, which used PFAS-based firefighting foam.
Michigan, which has a comprehensive water testing program, has 192 sites on the map. California has 47 known contamination sites and New Jersey has 43.
"This is a national crisis and it requires a national response," EWG Vice President Bill Walker told the McClatchy news service.
"We, along with many states and academic scientists, regard that number as far too high," Walker said. The environmental group says levels as low as 1 part per trillion could have adverse health effects such as repressed immune function in children.
In February, acting EPA Administrator Andrew Wheeler said by the end of the year the agency will "propose a regulatory determination" for PFAS, the next step toward establishing limits under the Safe Drinking Water Act, the Associated Press reported.
The EPA is also moving toward listing PFOA and PFOS as hazardous substances, making them eligible for the Superfund cleanup program, Wheeler said. The agency will propose adding PFAS chemicals to a drinking water monitoring program and develop new methods for detecting them in water, soil and groundwater.
In April, a bipartisan group of members of Congress introduced legislation that would require the EPA to set an enforceable standard for PFAS within the next two years.
We are being poisoned!
Follow us on FACEBOOK and TWITTER. Share your thoughts in our DISCUSSION FORUMS. Donate through Paypal. Please and thank you
[Interactive map, EWG, EPA, Weather]