Firefighters in California have been batting numerous blazes nonstop, trying to save millions of people and homes from the flames.
The biggest fire, the Kincade Fire, has incinerated parts of the wine country in Sonoma County since last week. Further south, multiple wildfires continue spreading near Los Angeles and surrounding counties. Here are all the wildfires currently threatening the state, from the most active to those nearing full containment: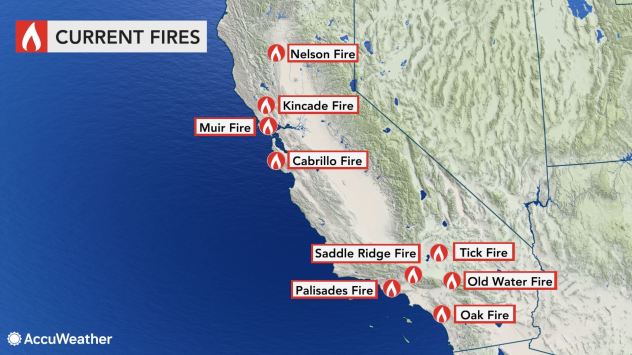 Sobrante Fire
Maria Fire
Getty Fire
Kincade Fire
46 Fire
Hillside Fire
Easy Fire
Hill Fire
Old Water Fire
Burris Fire
Saddle Ridge Fire
Another autumn, more fires, more refugees and incinerated homes. For California, flames have become the colors of fall.
California wildfires signal the arrival of a planetary fire age.California doesn't really have a fire season anymore; it's really a fire year!
The total damage and economic loss caused by the California wildfires in 2019 will be approximately $80 billion, according to a new estimate. [FireCal, Accuweather]
Follow us: Facebook and Twitter. By the way you can also support us on Paypal. Please and thank you!