The 2004 Indian Ocean earthquake was an undersea mega-thrust earthquake that took place at 00:58:53 UTC on December 26, 2004.
The M9.3 earthquake triggered a series of devastating tsunamis that killed over 230,000 people in fourteen countries with waves up to 30 meters (100 feet) high.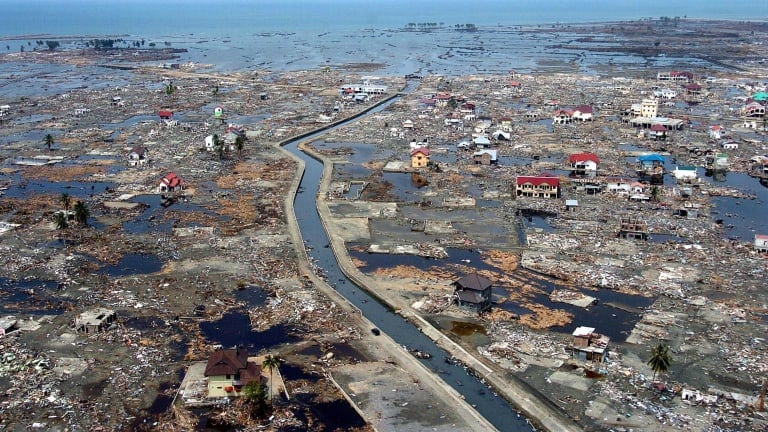 The 2004 Indian Ocean earthquake and tsunami (also known as the Boxing Day Tsunami) occurred at 00:58:53 UTC on 26 December, with an epicenter off the west coast of northern Sumatra, Indonesia.
With a magnitude between 9.1 and 9.3, the Sumatra-Andaman earthquake is the third largest earthquake ever recorded on a seismograph.
It has set a record of duration with 8 to 10 minutes of intense shaking, caused the planet to vibrate as much as 10 millimetres (0.4 inches), and it remotely triggered earthquakes as far away as Alaska.
The subduction earthquake was caused by a rupture along the fault between the Burma Plate and the Indian Plate.
The underwater quake and its resulting devastating tsunamis – with waves measuring up to 100 feet high – is one of the deadliest natural disasters in recorded history, killing an estimated 227,898 people in 14 countries.
The hardest hit countries are Indonesia followed by Sri Lanka, India, and Thailand.
Here another long documentary about this earthquake:
The subduction quake is known in the scientific community as the Sumatra-Andaman earthquake and the resulting tsunami has several names such as the 2004 Indian Ocean tsunami, Asian Tsunami, Indonesian Tsunami, and Boxing Day Tsunami.
Cascadia vs Sumatra-Andaman earthquake
The 26 December 2004, Mw 9.3 Sumatra earthquake and tsunami was a pivotal turning point in our awareness of the dangers posed by subduction zone earthquakes and tsunamis.
This earthquake was the world's largest in 40 years, and it produced the world's deadliest tsunami.
According to this research paper, that earthquake ruptured a subduction zone that has many similarities to the Cascadia Subduction Zone.
Both subduction zones are approximately 1,100–1,300 km in length.
Both have similar convergence rates
Both represent oblique subduction.
Slip along the subduction fault during the 26 December earthquake is estimated at 15–25 m, similar to values estimated for Cascadia.
The width of the rupture, 80–150 km estimated from modeling seismic and geodetic data, is similar to the width of the ''locked and transition zone'' estimated for Cascadia.
Coseismic subsidence of up to 2 m along the Sumatra coast is also similar to that predicted for parts of northern Cascadia, based on paleoseismic evidence.
In addition to scientific lessons learned, the 2004 tsunami provided many critical lessons for emergency management and preparedness.
As a result of that tragedy, a number of preparedness initiatives are now underway to promote awareness of earthquake and tsunami hazards along the west coast of North America, and plans are underway to develop prototype tsunami and earthquake warning systems along Cascadia.
Lessons learned from the great Sumatra earthquake and tsunami tragedy, both through scientific studies and through public education initiatives, will help to reduce losses during future earthquakes in Cascadia and other subduction zones of the world.
This simulation by Pacific TWC presents all earthquakes of Cascadia between 1979 and 2019:
The series of large quakes that have hit the upper end of the Cascadia are just a reminder that the next powerful quake may happen anytime. So please people living in the Northwest along the Cascadia Subduction zone, get prepared for the next Big One. Because it will be devastating. Read mor on Strange Sounds and Steve Quayle. [ResearchGate, EERI]
Follow us: Facebook and Twitter. By the way you can also support us on Paypal. Please and thank you!