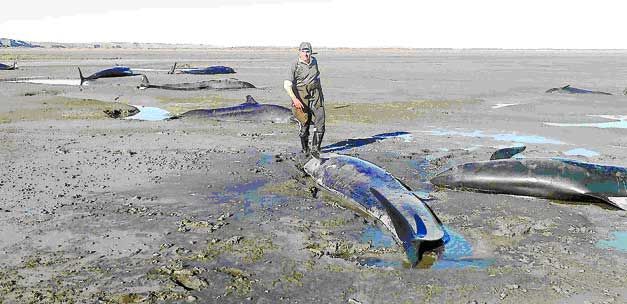 Local fishermen and the Chilean Navy are working together to return 50 beached whales (now known to be false killer whales) to the sea. Some measure over six meters in length and have been stranded in the Magellan Strait since Sunday. Fishermen in the Strait of Magellan, 105 km north of Punta Arenas, were the first to spot the whales on Sunday. At first they saw only four, but upon approaching the short-finned mammals, realized with horror that there were 46 of them, a number that by Tuesday had increased to 50.
How so many whales became stranded at the same time is as yet unknown. At least 20 of the whales, at first believed to be Pilot Whales (but now known to be false killer whales), died on site before being helped back into the ocean by efforts by the Navy and Sernapesca, Chile's national fishing service. The Navy was alerted immediately and arrived at 7 p.m. on Sunday night to keep control of the area and prevent any further harm to the animals. The Bahía Susana region is a marshy coastline which is difficult to access.
At this time of year the tides are very strong, and the false orca whales are accustomed to swimming at least 100 meters below the surface. Officials say two theories are plausible for this stranding:
The False Killer Whales may have been fleeing an orca attack
The False Killer Whales were pursuing a school of smaller fish, who are more accustomed to swimming in shallower waters, and could have led disoriented whales to the marshy shore of the Magellan Strait.
We could also think about sonars and military exercises, isn't it?