A mystery occurred in the sky over  Leamington Spa in England. A strange black ring appeared and then disappeared three minutes after.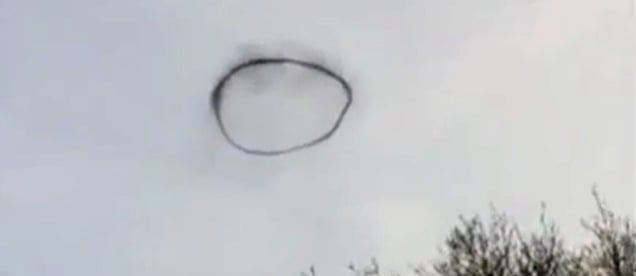 What was this mysterious sky phenomenon?
The weird black ring is baffling weather experts as well as firefighters. Are these insect swarms? Hail cannon?
I looked up at it and thought 'what the hell?', it was amazing. It was just floating there like a cloud and then it disappeared. It wasn't birds either.
The smoke rings are actually not rare phenomena. One occurred in Zurich last year, and also all around the world as shown in the videos below. You can cause them manually:
Some believe they are created by an exploding tranformer as in this case in Texas last year.
Finally other Youtube videos are presenting different views of this weird sky phenomenon in Tennessee and Chicago.
And I also believe you heard about the amazing volcano smoke rings. But of course, these Britain's smoke rings remain a complete mystery.