'Meteor' which lit-up the Australian sky may have been space junk from a weather satellite launched 10,000km away in Kazakhstan
Shocked Australians believed they were witnessing a plane explosion as a bright light lit the skies from Sydney to Melbourne.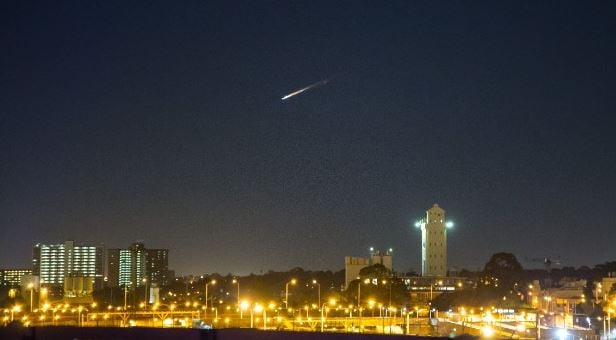 A mysterious but fantastic bright and long-tailed 'meteor' fireball lit up the sky of eastern Australia during 10-30 seconds last night at around 9:45 p.m. , July 8, 2014. Meteor or space junk?
Witnesses of this exploding sky phenomenon also reported a sonic boom accompanying the mysterious light in the sky over Sydney as written by The Age and Sydney Observatory: "One resident Cobar, in western NSW, reported hearing a sonic boom after a five minute delay, which indicated the object disintegrated within 100 kilometres of the town."
But what the hell was entering our atmosphere?
The 'Meteor' sighting closely matches timing and location of rocket launched from Kazakhstan on Tuesday, July 8, 2014. So, could this amazing sky phenomenon be related to this Russian space junk re-entering the atmosphere.
NASA indeed warned yesterday, that a seven-metre, three-tonne, cylindrical space junk object would return to Earth over Victoria and Tasmania on the same day.
Moreover, the 'mysterious fireball' was travelling much slower than the minimum speed of a meteor impact (7 km/sec vs 11.2 km/sec and had a shallow impact angle suggesting a space junk reentry from Earth orbit.
But still, there are some people believing they witness a fireball:
To me, however, it seems clear that this weird and bright object in the sky over Australia and Tasmania was not a meteor but the third-stage rocket that helped to take Russia's second Meteor-M weather satellite into orbit on 8 July 2014.