What a sighting! Imagine you are watching the supermoon rising when suddenly a meteor lights up the sky and starts decomposing just above your head!
Yes, two amazing sky and mystic phenomena in one! Amazing!
This is exactly what people across North Texas, around Dallas and from Denton to Waxahachie and from Lake Ray Roberts to Lake Tawakonion witnessed on July 12, 2014.  The moon became visible at 8:55 pm. The meteor emerged less than 10 minutes later.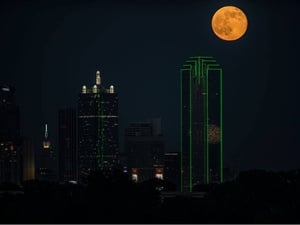 As shown in the short video below, the meteor split into two before its inevitable fade, as a double blue-green fireball lighting up the dark sky.
These mysterious lights in the sky were first believed to be an airplane. But it was moving so quick during about 15 sec and then broke in two pieces which then slowly faded away.
About 100 people reported this amazing splitting fireball on the American Meteor Society website.