The Samalá river in Quetzaltenango turned blood red overnight on October 14, 2016, alarming residents of nearby communities.
The Ministry of Environment and Natural Resources (MARN) has launched an investigation to determine the source of this mysterious color.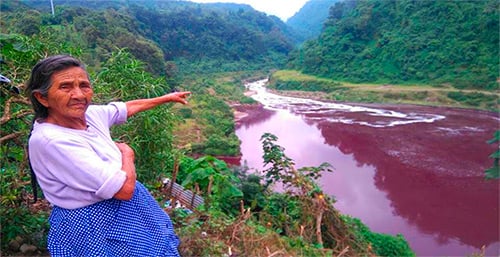 According to preliminary investigations an unknown black substance was poured into the river and could be the cause of the bloody water.
However, the subastance remains undetermined.
According to the National Electrification Institute (INDE), the pollution isn't related to any processes of power generation as the strange phenomenon appeared several kilometers away from the facilities.
Now, fish are dying in hundreds along the 145-kilometer-long Samalá river which flows across an area of 1510 kilometers where about 400 thousand people live. An imminent natural disaster?
So what's going on? Nobody knows but the river has turned blood red!
Esto es lo que se sabe de por qué el río Samalá se tornó rojo
Las aguas del río Samalá se tiñen de color rojo