The Sabancaya volcano in Peru exploded twice (Nov. 6th and Nov. 7th). This is the first eruptions in 18 years for Sabancaya.
These two explosions follow a period of seismic unrest that began in 2013. You bet these eruptions are worrying!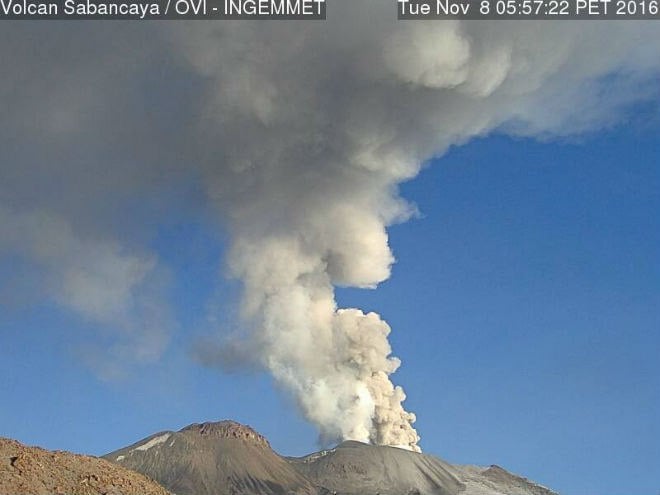 The Sabancaya exploded two times. The first eruption occurred at 8:40 pm on Sunday and the second at 8:43 am on Monday.
Ash and gases were emitted and rose up to 1'500 meters above the summit. The plume of gas and ash expanded in the area. An alert was issued for the authorities to take emergency measures to protect populations located near the volcano.
Ash fall was reported in communities situated within a radius of 5km around the volcanic peak. The alert level remains at yellow for now but the situation is to monitor.
Lahar warning have been issued.
Since 2013, the volcano is experiencing a period of gradual volcanic and seismic unrest first marked by an increase in seismic activity, then by some phreatic explosions in 2014. The gradual increase continued (not so linear) in 2015 with increasing shocks related to fluid flow. In 2016, scientists noted five new fumarolic areas – two were located in the N part of the summit area, and three were on the NE flank. The number of hybrid earthquakes increased during August and beginning of September. A small explosion on 27 August produced a dense ash plume that rose 1 km above the crater and drifted E.
This enhanced activity has clearly entered a new phase with these two eruptions on Nov 6th and Nov 7th. In their joint communiques, OVS / PGI and OVI / INGEMMET explicitly describe this activity as eruptive, so with new magma emission and recall that this is the first in 18 years for Sabancaya. More: COMUNICADO OFICIAL N° 03-2016