Thousands of years ago, the Sahara desert was a lush and verdant place more akin to a savannah.
A vast lake known as Lake Mega Chad spread more than 400,000 square kilometers (150,000 square miles) across north-central Africa – bigger than the Caspian Sea, the largest lake on Earth today. And it was revealed from above by one of the latest spectacular images from NASA's Earth Observatory: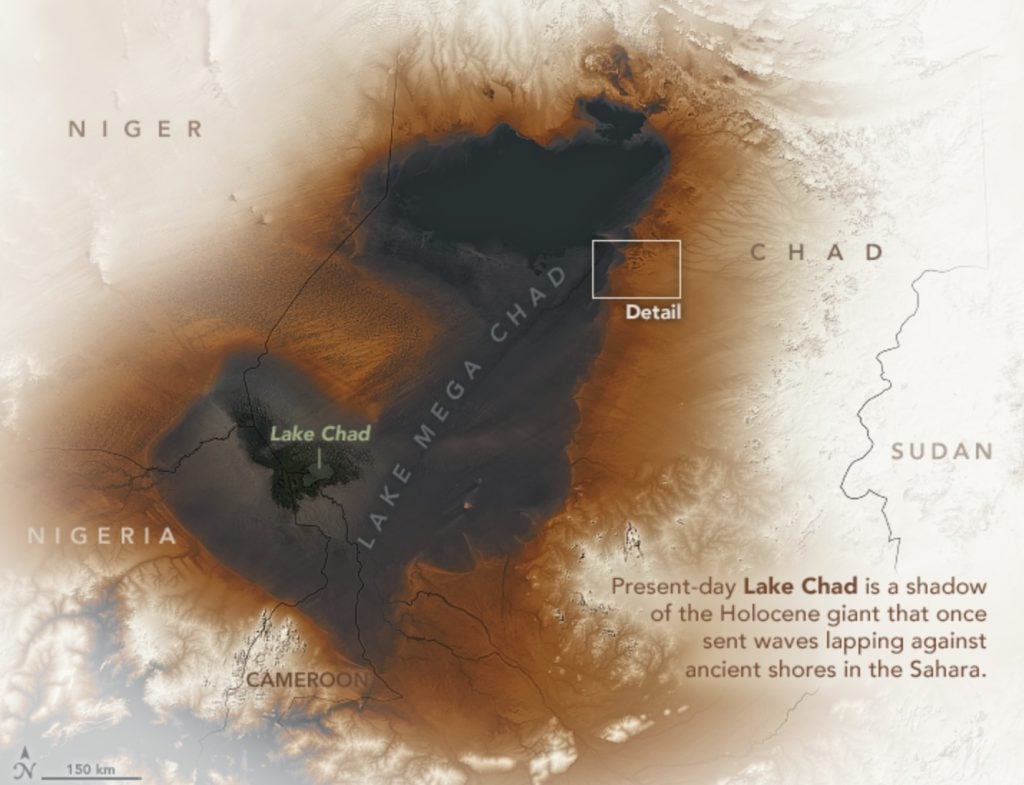 In the picture above, data from the Shuttle Radar Topography Mission (SRTM) reveals the former shorelines of the gigantic lake, with lower-elevation areas appearing darker in the image.
A photo taken by NASA and the United States Geological Survey's (USGS) Landsat 8 satellite locates the present-day lake Chad which is just a shadow of its former self.
The zoom image below shows the ridges and sand spits that formed along the northeastern shore of the ancient lake in Africa.
Sometime around 7,000 years ago, the wet, humid land turned into the vast sandy Sahara desert.
Now, Lake Chad is only 350 square kilometers (135 square miles) and it keeps shrinking as more than 40 million people rely on the freshwater reservoir and resources. More environmental collapse news on Strange Sounds and Steve Quayle. [NASA Earth Observatory]
Follow us: Facebook and Twitter. By the way you can also support us on Paypal. Please and thank you!