Because 2020…
We COULD possibly see two hurricanes in the Gulf of Mexico for the first time in recorded history.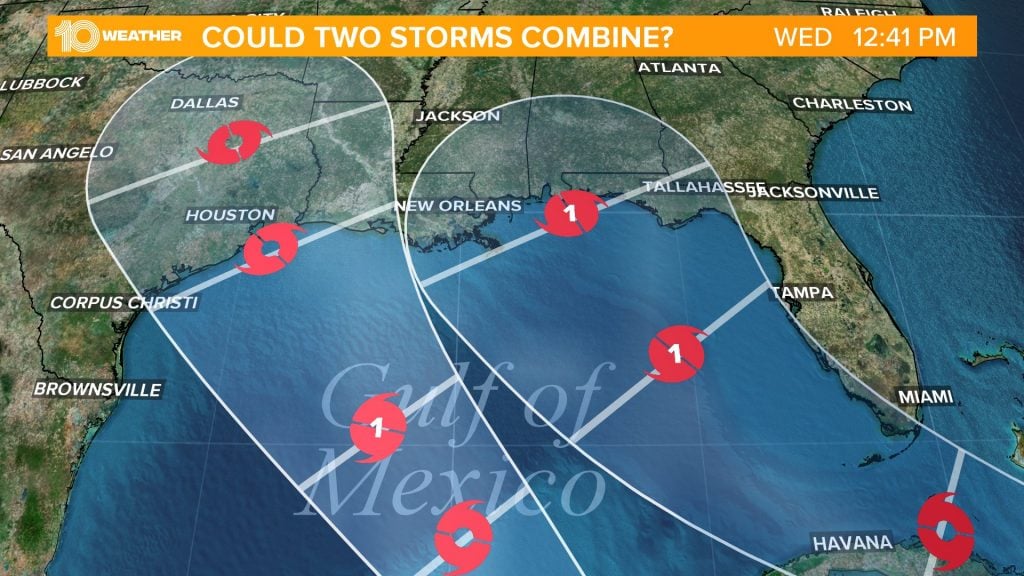 The historically active 2020 Atlantic hurricane season continues to ramp up, with the National Hurricane Center identifying two tropical depressions, both of which could strengthen as they head toward the Gulf of Mexico and the U.S. coastline.
Residents from Texas to Florida need to prepare for the TWO tropical systems that could impact the area in the coming days.
2020 is getting even crazier. There is a good chance of TWO HURRICANES making landfall in the Gulf of Mexico on the same day next week! Here's the current forecast tracks of both storms. They will be named Laura and Marco. STAY TUNED! pic.twitter.com/X6lY1q8Y3T

— ʀʏᴀɴ ᴠᴀᴜɢʜᴀɴ (@ryanvaughan) August 21, 2020
Tropical Storm Laura
The first system to watch is Tropical Storm Laura, which is about 200 miles east of the northern Leeward Islands.
Tropical storm warnings have been issued for Puerto Rico, including Vieques and Culebra, U.S. Virgin Islands, British Virgin Islands, Saba and St. Eustatius, St. Maarten, St. Martin and St. Barthelemy, Antigua, Barbuda, St. Kitts, Nevis, and Anguilla, according to the National Hurricane Center.
Former Tropical Depression Thirteen has strengthened and renamed Tropical Storm Laura this AM. Laura's exact track and strength are still unknown, however it is currently projected to travel northwest just north of Cuba and Haiti. Stick with us as we continue to track the tropics pic.twitter.com/d3yUvCe5aQ

— Meteorologist Jessica Burns WCYB (@JessicaBurnsWX) August 21, 2020
Tropical storm watches are in effect for the northern coast of the Dominican Republic from Cabo Cabron to the border with Haiti, as well as the northern coast of Haiti from Le Mole-St. Nicholas to the border with the Dominican Republic.
Watches are also in place for the southeastern Bahamas and the Turks and Caicos Islands, the NHC said.
Tropical Depression Fourteen (TD-14)
The second system, Tropical Depression Fourteen (TD-14), is about 150 miles east of Isla Roatan, Honduras.
A hurricane watch is in effect for Punta Herrero to Cancun, Mexico. A tropical storm warning has been issued for the Bay Islands of Honduras. A tropical storm watch is in effect for North and west of Cancun to Dzilam, Mexico, according the NHC.
Here's the latest on Tropical Depression Fourteen. It is expected to become a tropical storm later today. The next name on the list is Marco. It is forecast to move into the Gulf of Mexico this weekend. pic.twitter.com/nf9e2ZB5H9

— WFXR Weather (@WFXRWeather) August 21, 2020
"Regardless of development, this disturbance will likely produce heavy rains across a large portion of Central America and southeastern Mexico late this week and this weekend," the NHC said.
TD-14 is expected to become better organized Friday, meaning an upgrade to Tropical Storm Marco is likely to occur in the next 24 hours.
2 hurricanes in the Gulf of Mexico
Both systems are headed to the Gulf of Mexico.
"The longer-term forecast for [Tropical Storm Laura] looks to be complicated by the presence of another tropical system [TD 14] in the Gulf of Mexico next week," said CNN meteorologist Brandon Miller. "Another tropical system spinning in the Gulf will make the forecast track less certain, as tropical storms and hurricanes in close range of each other can alter the winds in the atmosphere and influence each others' tracks."
So have we ever had two tropical storm strength systems simultaneously in the Gulf of Mexico before?
Only two other times in recorded history has the Gulf of Mexico hosted two tropical cyclones at the same time, September 1933 and June 1959. "On June 18, 1959, we had an unnamed tropical storm (e.g., added after the season) and Beulah," Klotzbach said.
Both Tropical Storm Laura and Tropical Depression Fourteen could work their way into the Gulf of Mexico as hurricanes by early next week. This could send rain our way later in the week. This is on the @WVLT 8-day forecast. – @WVLTHeather pic.twitter.com/dtFnjZaQ0C

— WVLT Weather (@WVLTWeather) August 21, 2020
Right now both storms are forecast to intensify to Category 1 hurricane strength as they move through the Gulf of Mexico.
"We have never had two hurricanes in the Gulf of Mexico simultaneously," Klotzbach points out.
The National #Hurricane Center is currently hinting at possibility of two hurricanes in Gulf of Mexico simultaneously early next week (currently #TD14 & #Laura). If that were to occur, it would be first time on record that the Gulf of Mexico has had 2 hurricanes at the same time. pic.twitter.com/A7jhO9xkt1

— Philip Klotzbach (@philklotzbach) August 21, 2020
As of now, these systems are still several days away from impacting the US, so there is a lot that could change.
However, since there are two systems at play here, essentially everything from Texas to Florida is an option.
In terms of named storms, the 2020 Atlantic hurricane season has gotten off to the fastest start in history, according to record-keeping dating back to 1851. But storms so far haven't been very strong — only Hanna and Isaias have become hurricanes, and both were Category 1 status.
Forecasters are predicting much stronger storms over the remainder of the season, with several storms reaching Category 3 or higher, a potentially devastating strength if they make landfall with that intensity.
So could these two hurricanes combine? A similar occurrence happened in the Pacific Ocean three years ago when Hurricane Hilary and Hurricane Irwin combined. But, there's no record of it happening, specifically, with two hurricanes in the Gulf of Mexico.
But as you have already experienced it, 2020 is full of catastrophic surprises… Be prepared and get ready for the storms! More hurricane news on Strange Sounds and Steve Quayle. [CNN]
Now if you are looking for supplements to increase your healthy lifestyle and sexlife please visit Natural Health Source.
Follow us: Facebook and Twitter. By the way you can also support us on Paypal. Please and thank you!