Heavy rains have caused flash floods in south-eastern France and north-western Italy, killing at least seven people on both sides of the border.
Storm Alex has destroyed dozens of houses and washed away roads in a mountainous border region near Nice.
Coastal areas on the French Riviera were devastated, with long stretches of beaches littered with storm debris.
Yes, look at this… It is crazy! Look at all these trees and trunks covering the beautiful beaches of several locations along the Côte d'Azur in France.
Meanwhile, rescue workers stepped up their search efforts amid fears that up to 20 people were missing.
On Monday, French officials said three more bodies had been found in villages north of Nice, bringing the death toll in the country to four. At least three people have been killed in Italy.
Storm Alex, which brought fierce winds and torrential rain, then moved into northern Italy where record rainfall has also been seen.
What's the latest?
In France, around 1,000 firefighters were deployed along with helicopters and soldiers to the Alpes-Maritimes region.
A search is under way for eight people who were seen being dragged away by the flood waters.
#AlpesMaritimes : les débris des #intempéries continuent de s'amonceler sur le littoral et notamment à l'embouchure du #Var… Des branches d'arbres par milliers, des bouteilles vides, des pneus, des bonbonnes de gaz… Des images très impressionnantes ! #inondations #Vesubie #Roya pic.twitter.com/TBWeScgRbu

— Guillaume Woznica (@GWoznica) October 5, 2020
These included two firefighters whose vehicle was washed away when a road collapsed near the village of Saint-Martin-Vesubie, which was completely cut off by the storm.
In a number of French villages along the border, landslides covered roads and buildings in mud and cars were left buried in the slurry.
"My three-storey house, it's in the river," Sandra Dzidt, 62, told AFP news agency. "All I have left is a tiny piece of wall and a door."
Lors de sa #crue, le #Var a arraché des centaines d'arbres qui se trouvent réunis à son embouchure, entre Nice et Saint-Laurent-du-Var. Balancés par la houle, ils recouvrent la mer comme une écaille vivante. pic.twitter.com/pdIZpgFfoh

— La Chaîne Météo (@lachainemeteo) October 4, 2020
In total, firefighters have rescued more than 500 people in Alpes-Maritimes with around 150 still needing to be evacuated.
France has declared the region a natural disaster zone, and it was announced on Monday that President Emmanuel Macron would visit the area.
Des tonnes de bois sur la plage de saint Laurent du var #Alex06 #CotedAzurFrance #Intemperies pic.twitter.com/RIjc50jdiN

— Lionel (@lionelmonge) October 4, 2020
Meanwhile, flooding in north-western Italy was described by officials as "historic".
The Piedmont region saw levels of rain not recorded since 1958, with one village hit by a record 630mm (24.8ins) of rain in just 24 hours.
In the rest of Piedmont, several villages were cut off after the rains made roads impassable. The situation there was described as "extremely critical" by officials.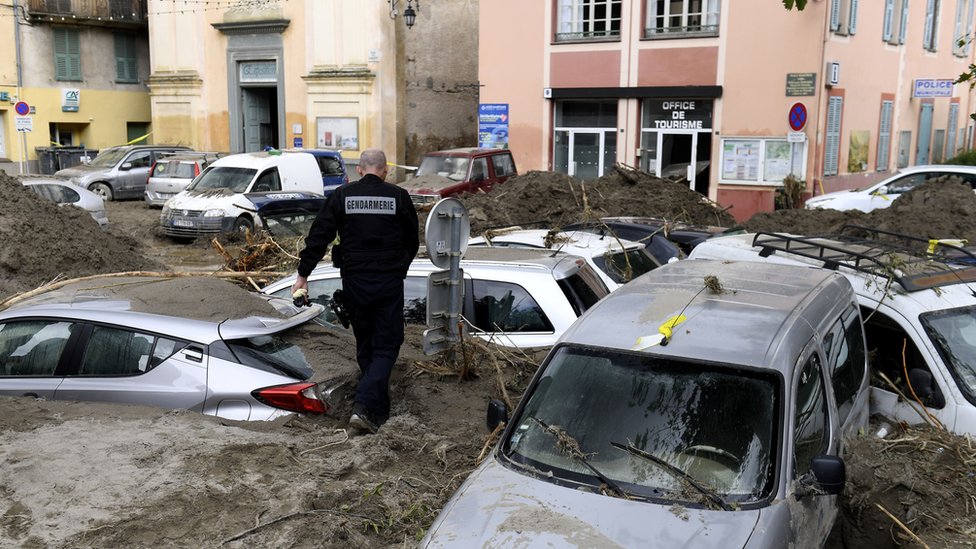 Power outages have hit villages on both sides of the border and about 10,500 homes were left without electricity on Sunday, the French energy company Enedis said.
Landline and some mobile phone services have also been disrupted, leading to fears that more people are missing.
But Bernard Gonzalez, prefect of the Alpes-Maritimes region, sought to reassure residents. "Just because their loved ones haven't been able to get in touch doesn't mean that they have been taken by the storm," he said.
He earlier said the prospect of more rain was "a worry", but rescue efforts in the region would continue.
More information on BBC, Strange Sounds and Steve Quayle. Now if you are looking for supplements to increase your healthy lifestyle please visit Natural Health Source.
Follow us: Facebook and Twitter. By the way you can also support us on Paypal. Please and thank you!