Two new bombogenesis are currenty forming in the Northern Pacific Basin… Yes! The bomb cyclone highway is opening up creating one extreme storm after the other.
On New Year's Eve, the far western reaches of the Aleutian Islands were rocked by the most powerful storm ever recorded in the North Pacific, with windspeeds equivalent to a Category 1 hurricane.
Two weeks ealier, a double bombogenesis hit Alaska.
And now, another bomb weather is explosing in the North Pacific, with another explosive cyclogenesis developing south of of Alaska, bringing violent winds and significant waves, and another intense storm growing in power further west.
The storm highway is open… And I bet 2021 could become even more active than 2020. But that's future. Now let speak about those two last monster storms.
So this how the new beast looks like…
Impressive, no?
And look at the pressure drop at the center of this monster in 24 hours… Pretty insane! 32 mbar in 24 hours and still decreasing!
988 mbar at 18 UTC, Jan 7th
977 mbar at 00 UTC, Jan 8th
961 mbar at 06 UTC, Jan 8th
964 mbar at 12 UTC, Jan 8th
956 mbar at 18 UTC, Jan 8th
The first explosive extratropical cyclone will move into the Gulf of Alaska this weekend, generating powerful winds of up to 120 mph (200 km/h):
and waves between 55 feet (16+ meters) up to nearly 59 feet (18 meters).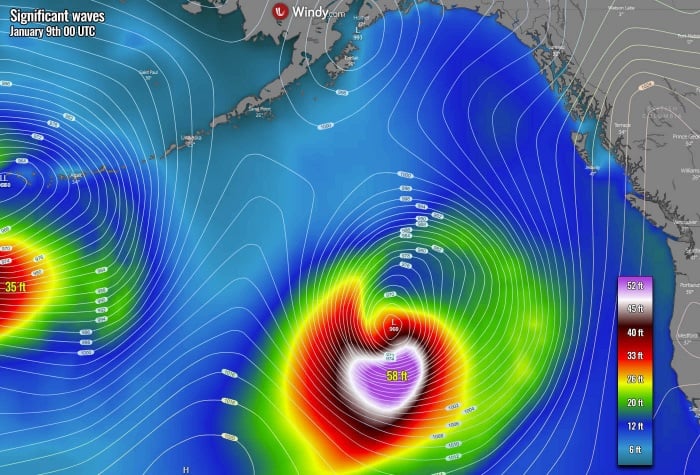 As shown in the satellite pictures below, the second 'low' is increasing in strength faster and will catch up with the eastern low this weekend.
Will both bomb cyclones merge into an unprecedented extreme weather event? Let's wait a few days and look. Always be prepared or get ready! The next disaster may impact you soon. More extreme weather events on Strange Sounds and Steve Quayle. [Severe Weather]
Follow us: Facebook and Twitter. By the way you can also support us on Paypal. Please and thank you!