This mass whale killing tradition reminds me of that perpetrated against dolphins in Taiji, Japan. It's sadistic, inhumane and utterly disgraceful. I am shocked! How is such a cruelty possible? How can the killers live with themselves?
As shown in this first picture, blood stains the water after the pilot whale slaughter in the Faroe Islands.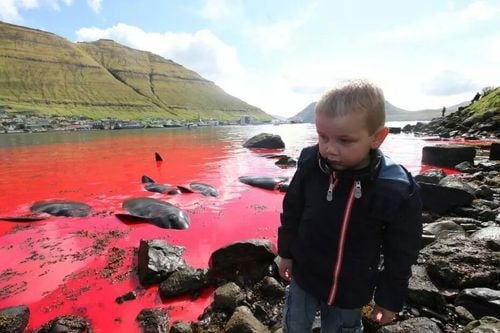 This weird hunting tradition called "Grindadráp" is not commercial. Pilot whales are surrounded by hunters in boats and driven slowly into a bay or fjord where they are slaughtered, as shown in this movie (GRAPHIC!):
I believe after seeing that, you feel hate and ask yourself… But why?
Hey Faroese brothers! Fight against this brutality and mass murdering! Now! The world is now watching you and starts hating your so-called traditions (at least this one).
If you don't have enough, you can watch more pictures of these bloody events here…
Now subscribe to this blog to get more amazing news curated just for you right in your inbox on a daily basis (here an example of our new newsletter).
You can also follow us on Facebook and/ or Twitter. And, by the way you can also make a donation through Paypal. Thank you!