The Stromboli volcano has violently erupted, killing a tourist in Italy.
Other people, terrified when ash started rising high into the sky, threw themselves into the sea.
The victim died while hiking towards the volcano's summit on Stromboli, Marco Giorgianni, the mayor of neighbouring Lipari, told Ansa.
Firefighters were tackling blazes caused by the eruption, Ansa reported.
Bon bah éruption énorme au stromboli ! pic.twitter.com/be3t4JtbLh

— demi cerveau ???? (@it_snottrue) July 3, 2019
"We saw the explosion from the hotel. There was a loud roar," Michela Favorito, who works in a hotel on the island, told Reuters news agency.
#Update: A video uploaded by one of the tourist on the island shows how close the Volcano top is on the small island of #Stromboli in #Italy pic.twitter.com/0sOP2iktju

— Sotiri Dimpinoudis (@sotiridi) July 3, 2019
"We plugged our ears and after this a cloud of ash swept over us. The whole sky is full of ash, a fairly large cloud," he said.
You're just about to hike up Stromboli and it explodes and the whole island is evacuated to a safe zone.#stromboli pic.twitter.com/qSYkf6eZRm

— donovan suddell (@donovan950) July 3, 2019
Holidaymakers were reported to have run into the sea after seeing ash rising from the volcano. The island is a popular location for holiday homes of the rich and famous.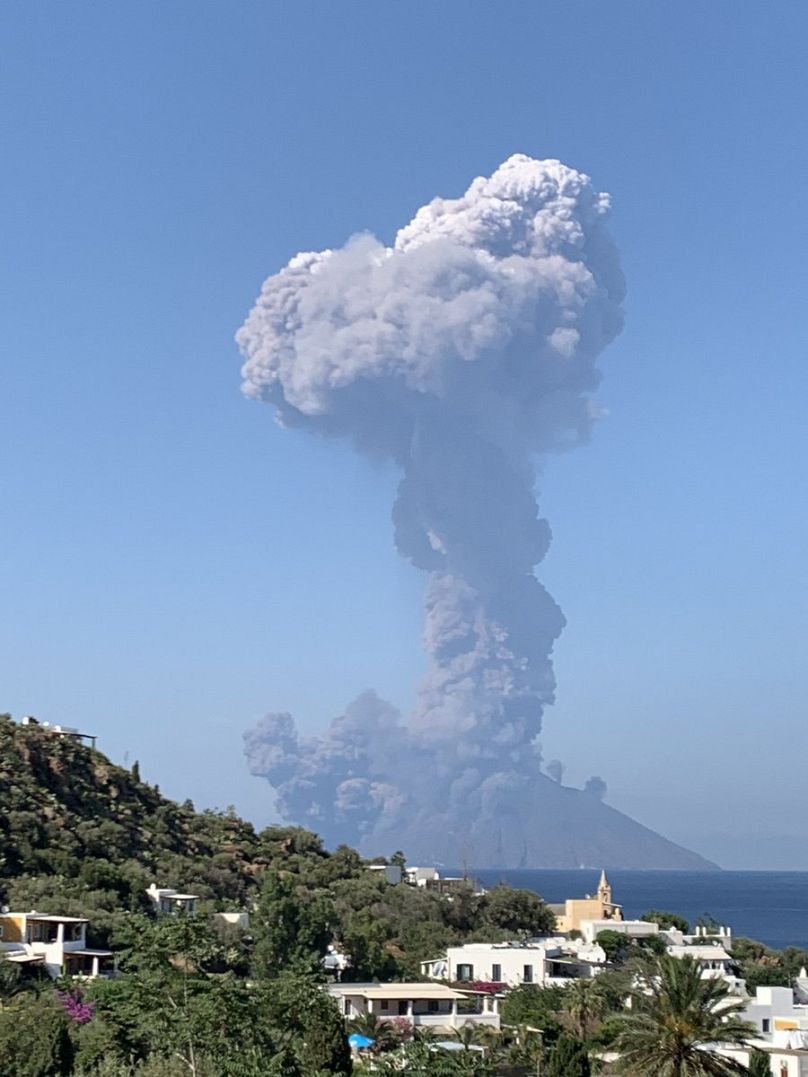 Carmelo Saia, a tourist, told Euronews that he was at the beach in Lipari, an island close to Stromboli, on holiday with his girlfriend when the volcano erupted.
Italy's Stromboli volcano eruption sends a high column of ash to the sky.https://t.co/c08Tx3AGHl

— Twitter Moments (@TwitterMoments) July 3, 2019
"We were having lunch and all of a sudden we saw everybody turning their heads in the same direction. We saw a big cloud rising up in the sky and immediately understood it was an eruption from Stromboli. Some people panicked and left the beach but we stayed as the situation seems under control."
Stromboli in azione ???? pic.twitter.com/iH2iVMLIep

— marco ortenzi (@mortenzi) July 3, 2019
Following the eruption, evacuation operations began on the island.
Stromboli is a small island in the Mediterranean Sea, off the north coast of Sicily, and is a popular tourist destination. ANSA also reported that the volcano was spewing out red hot rocks, and new lava spouts are creeping down the volcano onto the island.
According to an Aeolian island travel website, Stromboli has been erupting since records began. The Romans called it the "Lighthouse of the Mediterranean". Locals refer to the volcano as "iddu", a dialect word meaning "him".
View from the Panarea harbor as Stromboli erupts. Hoping everyone is safe on the ground. Visible lava flows headed down the mountain. pic.twitter.com/apZT3G3C57

— Alex Hopson (@TheAlexHopson) July 3, 2019
A few days ago, the Stromboli volcano also had an eruption already qualified as major by officials. Today's eruption seems to be much larger.
Follow us on FACEBOOK and TWITTER. Share your thoughts in our DISCUSSION FORUMS. Donate through Paypal. Please and thank you