April's Full Moon, Full Pink Moon, heralds the appearance of the moss pink, or wild ground phlox — one of the first spring flowers.
But this year, the Sprouting Grass Moon – also known as the Egg Moon, and the Fish Moon – will undergo a TOTAL LUNAR ECLIPSE and turn BLOOD RED!
The first of two lunar eclipses that will occur this 2015 will take place on April 4, 2015.
During this amazing space event, the earth passes between the sun and the moon and eclipses the moon totally thus changing its color to blood red.
This astronomical event will be visible in most of North America, South America, Asia and parts of Australia. The Moon will be totally eclipsed (totality) for about 5 minutes. From beginning to end, it will last for 3 hours and 29 mins. This is the third eclipse in the mysterious 2014–2015 tetrad.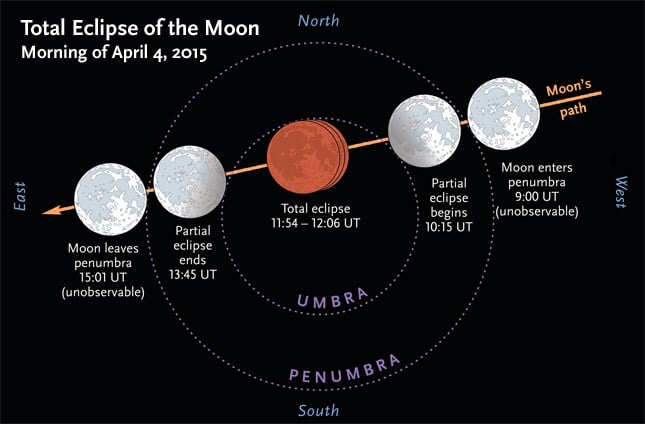 Another End-of-the-world Prophecy?
Some people believe that the tetrad has special significance because the eclipses coincide with important Jewish festivals. The two April lunar eclipses in 2014 and 2015 occur at the same time as Passover, while the October and September eclipses occur during the Feast of Tabernacle. This, they suggest, is connected to a biblical prophecy of the end of times.
The fact is, eight of the tetrads since the first century have coincided with Jewish holidays without the world going under, so there is no reason to believe that the 2014-2015 tetrad will end the world this time either.
So mark this next blood moon in your agenda!