The Siberian Ice Maiden witchcraft is so powerful it triggers natural disasters. Because local elders feared that the Russian ice mummy upheaval led to a series of natural disasters, it will be...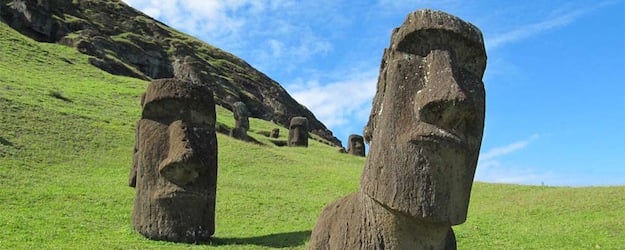 The huge stone heads on Easter Island have buried bodies! I actually didn't know! What about you? But when you look at them for the first time who would even think...
Have you ever wondered how socks, a bag or even a condom look like in the past? Well this collection of the world's oldest examples of ordinary things and everyday...
Torajas zombie love: Every year, in Toraja, an Indonesian village in Sulawesi, residents dig up their dead to give them a wash, groom and dress them in new clothes. This...
Ancient Skeleton Re-discovered In Philadelphia Museum After 85 Years! I knew there were weird things going on in Museums! But that is really unexpected! This skeleton was originally found by British...
The Nazca Lines Mystery deepens: Gales and sandstorms uncover geoglyphs of a SNAKE and a CAMEL in the Peruvian desert! The geoglyphs, known as Nazca Lines, were first discovered from above...
This little girl is 'truly' dead (died of pneumonia in 1920) and no demon has infiltrated her body! But the mummy of Rosalía Lombardo starts blinking her eyes several times...
A prehistoric necropolis yields clues to the ancient use of sound and its effect on human brain activity. Researchers detected the presence of a strong double resonance frequency at 70Hz...
Researchers have found evidence of a parasitic infection in the skeletal remains of an individual that lived between 6,500-6,000 years ago in an early farming settlement of northern Syria. The...
Now it is sure! Harvard owns a book that's bound in human skin. One of its curators announced today that tests on a book titled 'Des destinées de l'ame' (Destinies...
A recently deciphered 4,000-year-old clay tablet from ancient Mesopotamia is providing new details about the mythological tale of Noah and his ark. Was Noah's Ark round-shaped? Mythology and tales. What exciting...
Residents of the Yup'ik Eskimo village of Quinhagak first called in archaeologists from the University of Aberdeen in 2009 to carry out a rescue dig after observing their coastline...