The Atoyac River, which crosses eight municipalities in the central mountainous area of ​​eastern Mexican state of Veracruz, disappeared overnight after a giant crack opened up. Inhabitants of Rancho San...
What was this strong flash of light and loud rumbling boom in the skies over the north east of Scotland on February 29, 2016? The mysterious light appeared at around 7pm...
Unexplained loud booms are currently rattling residents of Jackson County, Hall County, Habersham County and Madison County. These mysterious explosions rattling homes haven't stopped over the past two weeks. So what...
What is this mysterious object exploding in a loud sonic boom over Victoria, Australia. Could it be a meteor falling to earth nearby on January 27, 2016? The video's time-stamp indicates...
The ground keeps shaking in Oklahoma, and more violently. The third most powerful earthquake in Oklahoma's recorded history, the magnitude 5.1 quake centered near Fairview, was felt in seven states...
Loud boom and strange light have been reported from Rockhampton down to Gympie, Australia on February 10, 2016. Was it a meteor that lit up Queensland? // Did you see a strange...
On February 6, 2016, a bright mysterious fireball exploded in the sky of Denmark and Sweden, creating a loud bang. Many kilos of the space rock have been collected... Meteorite...
Mystery booms and shakings were reported from southern New Jersey up into Connecticut on January 28, 2016. Officials have confirmed the initial round of shaking came from a sonic boom...
At 12:45 p.m., a sonic boom rattled buildings in Charleston and houses across the Lowcountry in South Carolina. I say jet sonic boom as the jolt was stronger and duration...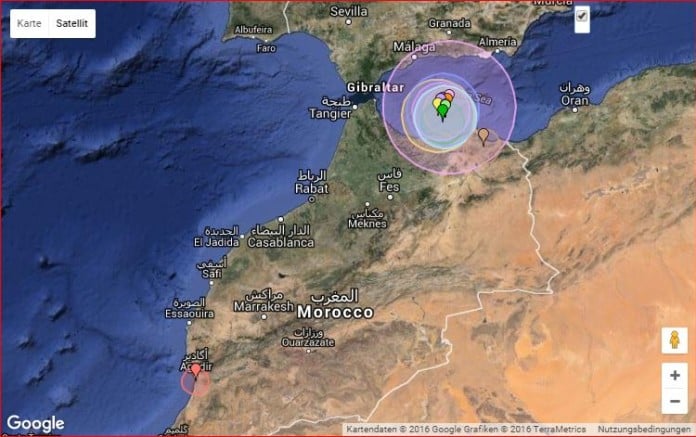 A powerful 6.1 magnitude earthquake shook the Mediterranean Sea off the coast of Morocco on January 25, 2016. It was then followed by a swarm of 6 moderately strong aftershocks ranging...